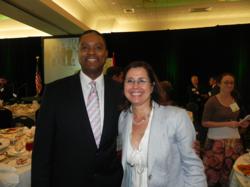 (PRWEB) September 22, 2011
Prompted by the Florida budget cuts to both public and private educational institutions in Miami, the Greater Miami Chamber of Commerce brought together more than 200 local, state, and national educational leaders at an educational summit on September 13, 2011 to explore real solutions. During the summit, Suzanne Walsh, Senior Program Officer of the Bill & Melinda Gates Foundation pointed out that "intergenerational poverty transmission is at its highest point" and that "education is the single biggest disruptor" to the poverty cycle.
There was a consensus among the educational leaders present at the summit that the future economy and the future of education in South Florida is in a "moment of crisis." The new Florida Commissioner of Education, Gerard Robinson, expressed a message of hope when he shared recent education reforms. The U.S. Deputy Secretary of Education Anthony Miller added that we need parents to be more demanding consumers of education, "South Korean parents spend close to 30% of their personal income on their children's education for services such as after school lessons, cram schools and tutoring, in addition to receiving a quality public education."
President Rosenberg, Superintendent Carvalho and President Padron delivered the vision and action plan on behalf of a coalition of educational leaders, which included the presidents of local universities, the Early Childhood Coalition, The Beacon Council, and the Greater Miami Chamber of Commerce. The main focus of the plan was on advocating for a "stable and sustainable" funding formula for education. The plan also committed to improve the relationships between the education community and business communities with tangible discussions on mentoring programs, internships, and business involvement in school career days. Marilu Kernan adds, "Investing in our children's education today is not only the smart thing to do for our community's economy, it is the right thing to do to break the cycle of poverty".
College Admissions Assistance is a comprehensive college-planning service that has helped thousands of students prepare themselves for college-from discovering a great career, achieving admission to the right college, and enjoying the best financial start in life. The company's ultimate mission is to help each student live out their unique purpose in life by helping them get started with the right college education.
###