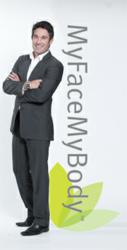 (PRWEB UK) 22 September 2011
Owners of beauty blogs and websites which are selling beauty products have seen their revenues increase by 17% says MyFaceMyBody.
Whilst the high street continues to be buffeted by a lack of consumer confidence, online retail is on the rise. In a survey of online beauty retailers the Sky TV show and website discovered that online businesses are reaping the rewards of bargain hungry shoppers.
The MyFaceMyBody online shop is one such retailer who is benefitting from the growth. The idea behind the store is to remove the inconvenience from the sales process and simplify the decision process for deciding what's best for you. It does this with a 30 Second Skin Test as well as skin care guides and easy-to-find solutions to common skin problems.
Such creativity from online beauty retailers has also contributed to the continued growth of the Internet market. Stephen Handisides, presenter of the Sky TV show MyFaceMyBody, said: "People are avoiding the high street but still need their skincare and beauty products. It makes sense that as they are reading their favourite beauty blogs or researching products that they also purchase from these online outlets.
"Shopping from an online beauty blog means that the consumer gets quality information, decent prices and home delivery. What's not to like?"
Beauty bloggers and websites missing out on this revenue can easily incorporate a shop into their current interface. MyFaceMyBody's "Online Shop For Everyone" will cost them nothing to add it to their existing site and yet it will deliver them a percentage of the profits for every item sold.
Even better, the fulfilment of the orders will be also be completed by MyFaceMyBody. This removes the time consuming onus of postage and packaging.
Handisides added: "The online shop can be fully integrated into an existing website and it will NOT take them away to a third party site. It removes the inconvenience from the sales process. More importantly it allows clinics and practitioners to make money instantly through selling top of the range professional skin care products."
MyFaceMyBody is the ultimate guide to cosmetic dentistry, cosmetic surgery and aesthetics. With hundreds of video guides online, from teeth whitening and dental implants to breast augmentation and dermal fillers. Find exclusive offers from cosmetic dentists, surgeons and doctors throughout the UK. You can also view the Sky TV show MyFaceMyBody on demand.
###