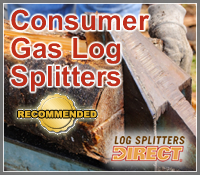 If you're looking for a reliable log splitter without all the bells and whistles, consumer gas splitters are perfect
Bolingbrook, IL (PRWEB) September 20, 2011
Today LogSplittersDirect.com released its recommendations for the best gas-powered consumer log splitters.
"These log splitters are relatively small, but powerful for their size," said Mike Cosgrove, product expert at Log Splitters Direct. "If you're looking for a reliable log splitter without all the bells and whistles, consumer gas splitters are perfect."
According to Cosgrove, most retailers are loyal to whatever wood splitters are in their store.
LogSplittersDirect.com, however, isn't your ordinary retailer. The online superstore specializes exclusively in log splitters and carries more than 50 different models including electric, gas, 3-point and skid steer log splitters from some of the nation's top brands.
The online retailer combined recent sales history, customer reviews and personal insight to generate their final recommendations.
Once the dust and data settled, only three consumer gas log splitters received the prestigious recommended title.
Top Consumer Gas Log Splitters
Good: Earthquake Quick-Split™ 12-Ton Dual Height Gas Log Splitter - W1265V
Better: Iron & Oak EZ Split™ 15-Ton Horizontal Gas Log Splitter - BHPCLS15
Best: Great Northern Equipment 20-Ton 2-Way Honda-Powered Gas Log Splitter - 11571
In addition, the expert staff personally wrote online reviews for each consumer wood splitter, explaining why the company recommended it.
By providing the recommendations and reviews, LogSplittersDirect.com hopes to arm shoppers with enough ammunition to pick the perfect gas-powered consumer log splitter for their needs.
Power Equipment Direct operates nine niche online superstores. In addition to LogSplittersDirect.com, the Bolingbrook, IL-based company operates AirCompressorsDirect.com, ElectricGeneratorsDirect.com, PressureWashersDirect.com, SnowBlowersDirect.com, MowersDirect.com, WaterPumpsDirect.com, ChainSawsDirect.com and SumpPumpsDirect.com.
###