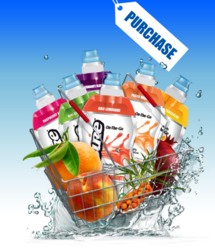 Being a global brand has always been our goal from the beginning, we are poised to open international markets before end of year

Chuck Miller EVP Assure Water
Los Angeles, CA (PRWEB) September 22, 2011
"We are thrilled to be a part of UNFI Food Distributors' and their roster of specialty gourmet foods," says Assure VP Sales marketing and Co-Founder Chuck Miller. "This is an exciting step for our company and we look forward to expanding our market presence and growing sales as we prepare to grow our distribution nationally as well as internationally. We also feel that Assure will be a strong player in foodservice as well as retail and UNFI is very strong in that channel of business that gives Assure Water a competitive advantage".
Assure Water brings an entirely new category to an already crowded beverage industry by delivering their products in innovative pouches with sports caps for portability, convenience and sustainability. Assures product tag line is "Good for you- Good for Earth".
Assure Water delivers the true On-the-Go experience with the first but not last pouch system. Each flavor has a function and a purpose. Peach Mango-For Bones with Calcium and Glucosamine, Kiwi Strawberry Melon-For Heart with Omega-3 EPA/DHA, GoJi Lemonade-For Immunity with Zinc, Tropical Tangerine-for Energy with D-Ribose, Raspberry Acai-For Body with Acai and Pomegranate Blueberry- For Mind with Ginseng. All flavors are sweetened with Organic Agave Berry and each package contains 60 calories and is Kosher as well as Halal certified.
About UNFI
United Natural Foods, Incorporated, also known as UNFI, is an independent national distributor of natural, organic and specialty foods and related products in the United States, distributing from 18 centers across the US and Canada. The company provides services for retailers and manufacturers, including marketing and promotions, merchandising, category management and store support services. UNFI' s product line includes dry, refrigerated and frozen groceries, personal care, supplements, fresh produce, perishables, general merchandise and non-foods.
UNFI' s customers include food cooperatives, supermarkets, natural food stores and niche retailers such as Whole Foods Market in the United States, Canada, and more than forty other countries.
UNFI has a focus on corporate social responsibility. Examples include construction and renovation projects that achieve LEED certification, use of alternative fuels, Green Teams and purchase of renewable energy from Eco Electrons.
UNFI was founded in 1996 by the merger of two regional distributors, Mountain People's Warehouse (founded in 1976, serving the Western US) and Cornucopia Natural Foods (founded in 1977, serving the Eastern US), forming the first natural products distributor with national scope. Since 1996, other regional distributors have merged with UNFI, filling in the distribution footprint and making UNFI the largest distributor of natural products. In 2007 UNFI added specialty products distribution through the acquisition of Millbrook Distribution Services.
Green Initiatives
UNFI is committed to be a leader when it comes to sustainability on all levels of the distribution process from the loading dock to delivering to the customer UNFI incorporates good for earth practices. Assure Water is also committed to being the leader in the industry with providing "Good for You Good for Earth" products. The pouch is BPA free as well as lighter than the plastic bottle which in turn creates a much smaller carbon footprint.
###