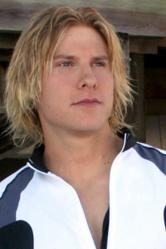 Charleston, SC (PRWEB) September 20, 2011
Blackbaud, Inc. (NASDAQ: BLKB) today announced that it has secured two additional keynote speakers for BBCON, Blackbaud's Conference for Nonprofits, being held at the Gaylord National Hotel and Convention Center at National Harbor in Washington, DC from Oct. 3 to 5. Brian Boyle, "The Iron Heart," and author Leslie Crutchfield will join author David Meerman Scott as featured speakers at the annual event that focuses on nonprofit technology.
About the speakers:
Brian Boyle "The Iron Heart" will share his personal story of his fight back from near death after a horrific automobile accident. Brian will share the emotional details about how he emerged from a medically induced coma and was unable to move or talk, yet he could hear, see, and feel pain. Hear his unique perspective as a former ICU patient and how the impact of blood donations changed his life.
Brian has volunteered for the Red Cross since 2007, hosting blood drives and speaking to donors, medical professionals, and sponsor groups about the need for blood donations. Brian's story reminds us of the very real and very immediate need for an adequate blood supply every day.
Leslie Crutchfield is co-author of the award-winning book Forces for Good: The Six Practices of High-Impact Nonprofits, on how to maximize nonprofit effectiveness. Forces for Good was named one of The Economist's Best Books of 2007 and is in its eighth printing. Leslie's new book is Do More Than Give: The Six Practices of Donors Who Change the World. Co-authored with John V. Kania and Mark R. Kramer, this book demonstrates how donors can go beyond check writing to become proactive catalysts for change by rising to meet the challenges of our increasingly interdependent world.
Leslie will speak on high-impact philanthropy, adaptive leadership, effective nonprofit management, and social entrepreneurship.
"We're excited to have both Brian and Leslie join us at BBCON to inspire and educate our community," said Mary Beth Natarajan, Blackbaud's director of corporate communications, who heads up the event. "Our conference theme is 'Impact,' and both Leslie and Brian have incredible experiences to share with attendees on how to further their impact."
Complementing these keynote speakers, this year's Blackbaud Conference for Nonprofits has more than 190 sessions, 15 authors and dozens of noteworthy speakers all focused on how to drive impact for nonprofits. As the largest conference focused on nonprofit technology in the world, the 2011 Blackbaud Conference is one of three annual, global conferences that the company will host this year including: the Blackbaud Conference for Not for Profits in London, England on October 10 and 11 and the Blackbaud Conference for Nonprofits in Sydney, Australia on November 7 and 8.
For more information, and to register, visit http://bbcon.blackbaud.com. Follow the Conference news on Twitter at http://www.twitter.com/bbcon or become a fan of Blackbaud on Facebook at
http://www.facebook.com/blackbaud.
About Blackbaud
Blackbaud is the leading global provider of software and services designed specifically for nonprofit organizations, enabling them to improve operational efficiency, build strong relationships, and raise more money to support their missions. Approximately 24,000 organizations — including The American Red Cross, Cancer Research UK, Earthjustice, International Fund for Animal Welfare, Lincoln Center, The Salvation Army, The Taft School, Tulsa Community Foundation, Ursinus College, the WGBH Educational Foundation, and Yale University — use one or more Blackbaud products and services for fundraising, constituent relationship management, financial management, website management, direct marketing, education administration, ticketing, business intelligence, prospect research, consulting, and analytics. Since 1981, Blackbaud's sole focus and expertise has been partnering with nonprofits and providing them the solutions they need to make a difference in their local communities and worldwide. Headquartered in the United States, Blackbaud also has operations in Australia, Canada, Hong Kong, Mexico, the Netherlands, and the United Kingdom. For more information, visit http://www.blackbaud.com.
Forward-looking Statements
Except for historical information, all of the statements, expectations, and assumptions contained in this news release are forward-looking statements that involve a number of risks and uncertainties. Although Blackbaud attempts to be accurate in making these forward-looking statements, it is possible that future circumstances might differ from the assumptions on which such statements are based. In addition, other important factors that could cause results to differ materially include the following: general economic risks; uncertainty regarding increased business and renewals from existing customers; continued success in sales growth; management of integration of acquired companies and other risks associated with acquisitions; risks associated with successful implementation of multiple integrated software products; the ability to attract and retain key personnel; risks related to our dividend policy and share repurchase program, including potential limitations on our ability to grow and the possibility that we might discontinue payment of dividends; risks relating to restrictions imposed by the credit facility; risks associated with management of growth; lengthy sales and implementation cycles, particularly in larger organization; technological changes that make our products and services less competitive; and the other risk factors set forth from time to time in the SEC filings for Blackbaud, copies of which are available free of charge at the SEC's website at http://www.sec.gov or upon request from Blackbaud's investor relations department. All Blackbaud product names appearing herein are trademarks or registered trademarks of Blackbaud, Inc.
Media Contact:
Melanie Mathos
Blackbaud, Inc.
843.216.6200 x3307
media(at)blackbaud(dot)com
###