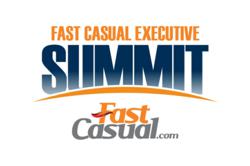 We are excited to have such an impressive roster of speakers at this year's event.
Chicago, Ill. (PRWEB) September 21, 2011
CEOs and other leaders from the fastest-growing segment of the restaurant industry will gather in Chicago's Hotel Allegro on Oct. 23-25 for the sixth annual Fast Casual Executive Summit, presented by FastCasual.com.
Au Bon Pain, Corner Bakery Café, Fazoli's, Firehouse Subs, and McAlister's Deli are just some of the fast casual restaurant chains whose executives will attend this event. They will join peers from numerous fast casual brands for two and a half days of networking and work group sessions designed to foster the exchange of ideas and innovations covering the industry's top strategic issues.
This year's event kicks off with a tour of 12 Chicago-area fast casual restaurants, including Wow Bao, Freshii, Grahamwich, Vapiano, I Dream of Falafel, and Jamba Juice. The tour allows attendees to network while sampling the menu and experiencing the atmosphere of some of fast casual's up-and-coming brands.
In addition to networking, the Summit agenda provides educational opportunities for attendees. "We are excited to have such an impressive roster of speakers at this year's event," said Valerie Killifer, Sr. Editor of FastCasual.com. Scheduled to speak are:

Tom Feltenstein, author of Change Is Good, You Go First, will speak on building sales through strategy, passion & energy. Feltenstein is a marketing strategist who has appeared on Larry King Live and provided marketing advice to Ben & Jerry's, Chick-fil-A, Coca Cola, Dunkin' Donuts, Subway and more.
Suzy Badaracco, dietician and founder of Culinary Tides, will speak about the latest in menu and flavor trends covering health, consumers and legislation and how restaurant operators can respond to each.
Scott DeFife, the National Restaurant Association's EVP of Policy & Government Affairs, will give attendees an inside glimpse at the legislation shaping the restaurant industry.
The Summit agenda also includes an executive Q&A panel featuring the CEOs of Beautiful Brands, Bennigan's, Freshii, and Noodles & Company.
Registration for the Fast Casual Executive Summit is free for qualified attendees. To qualify, an attendee must be an executive of a multi-unit fast casual restaurant operator.
The Fast Casual Executive Summit is produced by NetWorld Alliance, publishers of the restaurant industry news site, FastCasual.com.
###