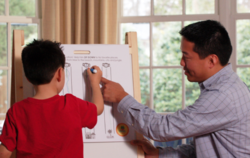 As pediatric occupational therapists we are witness to the ramifications of the decline of handwriting instruction in our schools today.
Charlotte, NC (PRWEB) September 22, 2011
While schools across the nation are removing or reducing their emphasis on handwriting instruction, pediatric occupational therapists behind the launch of a new educational readiness system by Carolina Pad say that pencil-to-paper skills, such as handwriting and drawing, are essential to the educational development of young children.
"As pediatric occupational therapists we are witness to the ramifications of the decline of handwriting instruction in our schools today," said Michelle Yoder, an occupational therapist who served as a technical consultant for Fundanoodle, a newly launched educational readiness system.
"The act of gripping a pencil and writing letters helps children develop muscles and skills that go far beyond writing," Yoder continued. "We have found that by concentrating on activities that develop the various elements of handwriting, you can help a child accelerate overall successful development of many everyday tasks, including competing in sports and playing a musical instrument."
Carolina Pad, a leading supplier of school, office, organizational, and arts and activity products, is introducing a handwriting development program as part of its new, comprehensive early education readiness system called Fundanoodle. The handwriting program – the first of a series of early education readiness programs offered by Fundanoodle – targets critical areas such as gross and fine motor skills, eye-hand coordination, memory and concentration, and manual dexterity.
The Fundanoodle system is an innovative early learning approach that uses a broad array of fun exercises and activities to foster skills essential for success in school and life.
The first module of this system, the Fundanoodle Handwriting Development Program, is designed for parents who may lack the knowledge or tools to help their children learn to write. Early childhood educators can also use the program to supplement classroom instruction.
Using colorful and engaging activities, the program takes children on a fun-filled journey as they master the foundational skills needed for writing and other everyday tasks. Designed in partnership with Amy Bumgarner and Michelle Yoder, who have nearly 20 years of combined experience in pediatric occupational therapy, the handwriting development program's writing tablets and activity kits target critical areas such as gross and fine motor skills, eye-hand coordination, memory and concentration, and manual dexterity.
And the system is easy for parents to use because it's color coded to denote activities targeted to different age ranges: orange is for ages 3-plus/preschool, blue is for ages 4-5/pre-K to K and green is for ages 5-6/K to first grade.
Bumgarner and Yoder, who have often created their own learning tools, developed the system because they realized that parents and teachers need a comprehensive system for teaching kids foundational skills.
"Parents are eager to help prepare their young children for school, but are often uncertain about what they can do to help," says Yoder. "The Fundanoodle Handwriting Development Program gives parents the tools they need to engage with their children in fun, positive ways that help prepare them for school and life. Every activity is designed to reinforce an essential component of educational preparedness. Moreover, parents and teachers find the program easy for kids to use at home."
The initial launch of Fundanoodle consists of 15 components that teach skills appropriate for 3-year-olds in preschool, 4- and 5-year-olds in kindergarten, and 5- and 6-year-olds in first grade. The components are organized in developmentally appropriate progression, beginning with exercises that focus on basic skills (doodling, drawing) and progress to more complex skills and activities (letter recognition and formation).
The handwriting development program offers parents and teachers the flexibility of purchasing individual products to target specific skills. Or, they can purchase all-inclusive kits that contain exercise tablets and other tools that address a wide range of skills. Fundanoodle products, which range in price from $4.99 for a writing tablet, to $27.99 for an all-inclusive kit, can be purchased at the Carolina Pad Web store.
In conjunction with the Fundanoodle product release, Carolina Pad is also launching the Fundanoodle website, which provides useful product information, video quick tips, testimonials, reviews, additional practice pages, worksheets and other helpful information. Bumgarner and Yoder will also offer visitors expert advice on Fundanoodle and other early learning issues through a blog and an "Ask the Experts" feature.
The Fundanoodle Handwriting Development Program introduces a proven new technique for teaching handwriting that uses dynamic and fun terms such as "zip across" and "zoom down" to teach basic handwriting strokes. Bumgarner and Yoder, who
invented this technique for their own practice, find that children learn faster because it's fun and intuitive.
"Having worked with children for many years, we know that this approach works for children at all levels, including those who are experiencing developmental delays," Bumgarner said.
Large doodle pads encourage parents and children to spread out on the floor to enjoy games and puzzles while kids enhance their balance, coordination and muscle
development. Writing tablets and activity kits emphasize development of fine motor and other skills. Colorful and fun characters, Alphie and his friend, Max the Monkey, are featured in many activities to offer support and encouragement. A sticker-based reward system provides positive reinforcement.
According to Bumgarner and Yoder, the skills learned from Fundanoodle translate not only into educational preparation, but also into greater success with the tasks and activities of daily living, which is the core focus of occupational therapists.
"Several of the Fundanoodle components focus on handwriting because writing skills are fundamental to a child's development and learning preparation," Bumgarner said.
Parents can select Fundanoodle learning components based on their child's needs, interests and learning progress. In the future, Fundanoodle will expand to address mathematics, creative writing and more.
"We encourage busy parents to remember the importance of consistency with meaningful activities and exercises," Yoder said. "Devoting just 20 or 30 minutes a day can make all the difference in the life of a child while giving parents added confidence in helping their children along a path to a successful future."
About Carolina Pad
Carolina Pad™ is a leading supplier of school, office, organizational, and arts and activity products. Headquartered in Charlotte, N.C., with offices in Hong Kong and Shanghai, Carolina Pad is one of the fastest growing stationery companies in the world. Its school, office, and arts and crafts products can be found at major retail outlets, office supply, grocery and drug stores. The Carolina Pad portfolio of brands include Studio C®, Note2Self®, Ghostline®, Fundanoodle™, Notebound®, Sasquatch®, and u:create®. Learn more about Carolina Pad at http://www.carolinapad.com.
###