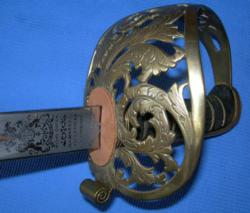 The co-op antique swords resource.
Brussels, Belgium (PRWEB) September 23, 2011
A brand new kind of Internet resource for the antique sword community has been launched.
Ed Parker couldn't find an antique sword forum that covered all his collecting interests, couldn't find an antique sword forum that he believed got user issues right, couldn't find an antique sword forum that offered the facilities he needed, so he jolly well built his own, Antique Swords.
There he was, a collector of everything from Nihonto Japanese katanas to early European sabres to ancient Indo-Persian shamshirs, actually making good money equity wise on his collections, but he could not find a forum that gave him what he wanted !
Forum users widely report and bemoan draconian nepotism, nanny mentality over-moderation, and niche only topics (threads) restricting what they want to discuss. Ed Parker says "It has become so that interest, vitality and truth often come second to cronyism, pride and intransigence. When you can not point out a fallacy, an opposing substantive opinion, some fact that contradicts the inner circle, something on the fringe, it is no longer a forum for exchanging views, but an insulation of them for the chosen few."
Ed continues "So I built a Co-Op! Not the kind you buy your baked beans from, but an antique swords forum where people truly co-operate on an equal footing and where privileges abound for everyone, and extra privileges are there for the taking by anyone. For example, the top forum users become the moderators, not the forum owner's buddies."
It is not just management modus operandi that sets Antique Swords Org apart, but useful technology. This is not gadgetry for the sake of it, but technology based on Ed's experiences and wish lists from other forums, for example; a classifieds section where users can sell, auction and post wanted ads; a resource link directory, where users can submit and find the best of the antique & collectible edged weapon web; even little things like being able to specify individual users that are not permitted to reply to subjects you have started, what Ed claims ensures, "the end of the dreaded forum troll !"
It is perhaps a sad statement that on one established antique sword forum it takes over a week to register and many months before a user is allowed to post without management approving what they have to say first; according to Ed it's like being back at school, a Victorian era school ! Well, on Antique Sword Org's forums, everyone can start posting straight away and only those who chose not to register have their messages moderated, with good reason of course. So take it from this fact alone, everyone but forum abusers are welcome! It is a fact that only forum abusers get banned; no real user will ever be banned.
Ed says he is able to do this because his site uses the latest technology to defeat forum spammers and abusers, for example where every new registration is cross-checked against a continually updated database of spammer, etc. details such as their ISP and email address. Suspicious users are automatically detected and either blocked or reviewed. Hence, even people who do not want to register on the site can go and make pretty full use of it and without or with minimal delay, with the forums becoming a bulletin board full of prescription medication adverts.
Its a lot more than all of the above, but people will have to go visit the site to find it all out and experience the difference. And if they never had that much interest in antique swords, sabres, cutlasses, dirks, shamshirs, mamelukes, shin guntos, shaskas, katanas, and the like before, Ed hopes he and his Co-Op can tempt them over to the sharp side of the pleasurable and evocative side of collecting and investing in antique edged weapons.
###