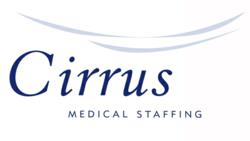 "I'm very pleased to announce promotions for these three key team members," said Randy Holloran, President of Cirrus Medical Staffing
Charlotte, NC (PRWEB) September 20, 2011
Cirrus Medical Staffing (http://www.cirrusmedicalstaffing.com), an industry leader in travel nursing and allied healthcare staffing, today announced promotions for three long-time employees to help support the demands of the rapid growth the company has experienced over the past several months, as well as to provide increased customer service to its client base.
Healthcare staffing industry veterans Joseph Carlino, Pamela Honeycutt Mackey, and Jackie Smith have each been with Cirrus Medical Staffing for several years and have served in a variety of roles. Smith has now been named Manager of Client Services, while Honeycutt Mackey was named to the role of Manager of Key Accounts. Carlino has been moved into the role of Manager of Strategic Accounts.
"I'm very pleased to announce promotions for these three key team members," said Randy Holloran, President of Cirrus Medical Staffing. "Joseph, Jackie, and Pamela have each been a big part of our success over the past several years. I look forward to working with them closely in their new roles to help support our growth as a company, as well as continue to provide our clients with the top-notch service and attention that makes us unique in the healthcare staffing industry."
About Cirrus Medical Staffing
Based in Charlotte, NC, Cirrus Medical Staffing is an award-winning healthcare staffing firm, providing medical professionals to healthcare facilities across the nation. Cirrus Medical Staffing specializes in placing nurses and allied health professionals into travel, contract and permanent employment. Cirrus is ranked as one of the top 10 travel nurse companies in the US and is Joint Commission Certified.
###