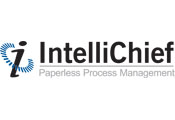 We are excited to present to users how the Infor IntelliChief solution is the way to go paperless, especially if you're already familiar with Infor applications
Mansfield, MA (PRWEB) September 21, 2011
IntelliChief LLC, the leading provider of document management and document imaging solutions for the IBM I (System i, iSeries, AS/400), embraces their strong partnership with Infor as their official document management solution provider to Infor ERP users by presenting at the System I User Conference 2011.
The conference will be held in Nashville, TN from October 2-5. IntelliChief is Infor's document management solution of choice for Infor ERP XA, ERP System21, ERP PRMS, and ERP LX/BPCS users.
Infor and IntelliChief have worked very closely to ensure the tightest and smoothest integration possible. "We are excited to present to users how the Infor IntelliChief solution is the way to go paperless, especially if you're already familiar with Infor applications," said Michael Rooney, Vice President of Sales and Marketing for IntelliChief.
Infor users who attend will learn how Infor Document Management can eliminate paper from business processes and increase operational efficiency in areas such as purchasing, receiving, payables, human resources, customer service, and more.
IntelliChief will present Infor IntelliChief™ Document Management, Infor Formtastic™ Laser Forms Printing and Barcode Labels, Infor Formtastic™ Laser MICR Checks, Infor FastFax™ Email Solutions and welcome attendees to join these presentations.
About IntelliChief
IntelliChief, is the leading provider of Paperless Process Management (PPM) solutions for the IBM i (System i, iSeries, AS/400) Enterprise. With decades of expertise in the market and seamless integration with leading ERP software vendors, IntelliChief takes companies of all sizes paperless with a typical ROI of less than one year. Users can create, capture, manage, archive, retrieve, and distribute mission-critical documents directly from their familiar ERP screens, eliminating the need for filing cabinets, storage facilities, fax machines, copiers, and paper files.
The FastFax™ and Formtastic™ trademarks are the property of Quadrant Software, LLC.
###