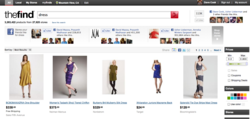 with the expected launch of more granular open graph buttons, the stage is set for a dramatic shift in the way that shopping search is done
San Francisco, Calif. (PRWEB) September 20, 2011
TheFind, a leading tablet, mobile, and social commerce innovator and search engine, today released results of a review of its click-through data which draws a clear and positive correlation between Facebook Likes and the number of shoppers visiting specific ecommerce sites. TheFind, which hosts tens of millions of online shopping searches every month, displays product search results alongside the number of Facebook Likes accumulated by individual stores offering those products. TheFind added this feature a year ago following the last Facebook f8 conference and Open Graph announcement.
"In the context of shopping, Facebook Likes are widely distributed personal endorsements – quite often from people you know – of the brands, stores and products you are thinking about now," said Siva Kumar, CEO of TheFind. "The unmatched scale of Facebook Likes in retail eCommerce already makes them the most important 'social signal' in filtering search results, and with the expected launch of more granular open graph buttons, the stage is set for a dramatic shift in the way that shopping search is done."
Available as a social plugin for little more than a year, Facebook Likes have already become as important to retailers as having specific trust seals on their eCommerce sites. For instance, last year VeriSign reported that display of its seal next to certified stores drove similarly elevated click-throughs for retailers on TheFind. Today, TheFind reports that display of Facebook Likes has a similarly positive impact for retailers, regardless of their size. According to TheFind, the results of this analysis demonstrate that a retailer's presence on Facebook influences e-commerce, even if that presence is not enabling transactions on Facebook itself.
"The results of this data were so immediately obvious and compelling that we shifted developer resources to more prominently feature Facebook Like data in our shopping search results," noted Kumar. "The design concepts we've built are currently being tested and shoppers can expect to see significant changes – influenced by social signals – to our search results within the next couple of weeks."
The data included in TheFind's analysis covers click through rates for the top 10,000 retail sites – as measured by overall traffic to those sites originating from TheFind – in the July 25-31, 2011 time period. TheFind categorized the stores by overall traffic into 10 separate tiers in order to compare traffic patterns across similarly sized stores. The final analysis clearly demonstrates that amongst the 10,000 stores studied, regardless of their traffic tier, those with at least 100 Facebook Likes had a 7-8% higher average click through rate than a similarly-sized store that did not have a Facebook fan page (zero Facebook Likes) or fewer than 100 Facebook Likes.
Additional Findings
TheFind's analysis revealed that only 6.5% of all stores with Facebook fan pages in this study showed fewer than 100 Facebook Likes, however, a whopping 65% of the 10,000 stores in the study had no Facebook fan page at all. Not surprisingly, the larger the store, the more likely they are to have a Facebook fan page and a sizable number of Facebook Likes, far exceeding the 100 threshold. For example, 60% of the stores in the top-tier of 1,000 stores have Facebook fan pages, but in the second tier of 1,000 stores only 46% had fan pages, dropping even further to just 28% of stores with fan pages in the bottom 1,000.
Further underscoring the point that Facebook Likes are influencing transactions is data from Serena & Lily, a home décor retailer who has seen a triple digit increase in both the number of Facebook Likes they have accumulated in the past eight months and more importantly a similar rise in the amount of money spent by the people who like their store. Specifically, Serena & Lily saw their Facebook fan base grow by 193% so far this year, while the dollars spent per fan has also risen by 190%. Also, the retailer notes that visits to their online store by their Facebook fan base have grown over the same period by some 114%.
"We've been tracking the top retailers by fan count (tallied by Facebook Likes) over the past six months in our Facebook Commerce Index, and keeping close tabs on what retailers are doing to improve their fan count. In just six months, fan count has increased by 54% across the board, demonstrating that many of the large retailers are taking their Facebook fan counts very seriously," said Scot Wingo, CEO of ChannelAdvisor. "The value of Facebook Likes extends beyond just a personal endorsement—it gives retailers the opportunity to market to their fans via Facebook, a free, under-utilized channel. Any retailer that's not jumping at the opportunity on Facebook should rethink their marketing spend."
About TheFind
TheFind is a leading mobile, tablet and social commerce innovator and search engine. With patented search and discovery technology, TheFind makes it easy to shop for anything you like, in every store, all at once. TheFind leverages Facebook's Open Graph to rank stores and brands by consumer "Likes" in shopping search results and to personalize the company's cross-platform shopping experience. A pioneer in the tablet commerce space, TheFind redefined catalog shopping with the launch earlier this year of Catalogue by TheFind, a shopping app with more than 160 catalog titles. Ranked number 12 on the 2010 Inc. 500 list of fastest growing private companies, TheFind was founded in 2005 and was venture funded by Bain Capital Ventures, Lightspeed Venture Partners and Redpoint Ventures. TheFind is a San Francisco and Silicon Valley-based company.
###