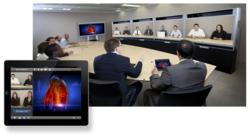 Fuze Telepresence Connect integrated with Teliris is enabling a dramatic shift in collaboration across the enterprise.
New York, NY (PRWEB) September 21, 2011
Teliris, the telepresence innovation leader, today announces with FuzeBox, a global leader in real-time collaborations solutions, seamless integration between Teliris Telepresence and FuzeBox's solutions through Fuze Telepresence Connect.
Together, these solutions will allow Teliris users to access web conferencing and telepresence across a broad range of platforms, including the desktop and mobile devices through Fuze Meeting, a cloud-based collaboration tool. Both companies deliver SVC-based solutions for high quality video over the internet and general purpose networks.
Teliris and FuzeBox recently announced a strategic partnership to integrate FuzeBox's products into Teliris Telepresence solutions and to jointly develop a unique set of collaboration tools designed to create a natural virtual meeting experience independent of platform.
"Fuze Telepresence Connect integrated with Teliris is enabling a dramatic shift in collaboration across the enterprise," said Jeff Cavins, FuzeBox CEO. "We are excited to align ourselves with Teliris and build a successful partnership."
"We look forward to offering our customers the opportunity to make video meetings more accessible than ever by connecting the broad range of Teliris Telepresence solutions with Fuze Telepresence Connect. This offering builds on our pledge to make video seamless and ubiquitous across the enterprise," said Neil Hobbs, Teliris CEO.
As the first milestone in these companies' joint product development, Teliris and FuzeBox look to change the way businesses interface by seamlessly linking real-time collaboration with a high quality video experience for natural and intuitive virtual meetings across a broad range of platforms and devices.
About Teliris Telepresence:
Teliris develops and implements the world's most innovative fully managed telepresence and collaboration solutions, realistically replicating the human dynamics of an in-person meeting experience. Through its dynamic core platform and unique intellectual property, Teliris has radically simplified the acquisition, deployment and operating costs of telepresence, breaking new ground in adoption and reach of the technology. Teliris is headquartered in New York and London and has deployments across the globe, offering with end-to-end integration, market-leading 99%+ availability guarantee and interoperability with all telepresence, traditional videoconferencing and unified communications solutions. For more information, visit http://www.teliris.com or email info(at)teliris(dot)com.
About FuzeBox:
FuzeBox is the global leader in real time visual collaboration applications for millions of end users across various businesses. Its applications - Fuze Meeting and Fuze Messenger allow people to communicate, collaborate and share content from any device, across any network, anywhere in the world. Fuze Meeting is a mobile and web-based collaboration service that features integrated audio conferencing as well as high-definition, synchronized video and image sharing. The company's technology is based on a real-time visual communications platform that converges telephony, high-definition, synchronized video and image sharing across the enterprise, the web and mobile networks. FuzeBox has been awarded 23 patents and with 42 more pending in the fields of telephony, web and visual media technologies to transform how professionals and individuals communicate. For more information, please visit http://www.fuzebox.com
###