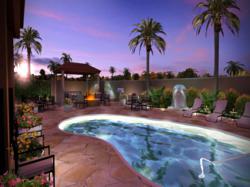 Upon completion, we will have the newest Marriott properties in Tempe, and will offer the absolute best value for upscale, extended stay all suites hotels
Dallas, Texas (PRWEB) September 26, 2011
Apple REIT Companies of Richmond, Virginia, has announced the sale of the Marriott SpringHill Suites and the Marriott TownePlace Suites at Arizona Mills Mall in Tempe, Arizona, to Western International, a Dallas-based hospitality firm.
Details of the recent transaction were undisclosed, and a complete reconstruction of both properties is underway with completion scheduled for September, 2011.
According to Jeff Blackman, executive vice president of Western International, "In real estate, it's all about location, and that's why we took advantage of the opportunity to acquire this property as it is strategically positioned just minutes from major employment centers and Tempe's exciting entertainment destinations.
"We're doing more than just a renovation," adds Blackman. "This is brand-new construction, and our architectural, building, interior design and hospitality teams are truly creating the next generation of all suites hotels that will reposition this property for the future. When a guest arrives, we're going to impress them at every turn with fresh, imaginative spaces for living, working, and relaxing; extraordinary amenities; and an exceptional level of quality service that is always consistent, whether they stay a day, a week, a month, or longer. With brand-new hotels, offering a brand-new experience, guests will see us in a brand-new light."
"Upon completion, we will have the newest Marriott properties in Tempe, and will offer the absolute best value for upscale, extended stay all suites hotels," remarks Gene Carter, owner and CEO of Western International.
"We are the gateway to the Tempe high-tech area on Baseline Road, just off Interstate 10, and our top-of-the-line hotels are the perfect choice for business – offering convenient access to Phoenix Sky Harbor Airport, Intel, IKEA, Bank of America, State Farm, Chase Bank, and numerous other key industry destinations," adds Carter.
Texas Western Hospitality, the management arm of Western International, will serve as the lodging management company for the properties. With over 30 years of successful history in hotel development and operations, the company is headquartered in Dallas, Texas. Texas Western Hospitality proudly manages several of the finest brands, including Marriott and Hilton, and has become one of the most respected lodging management companies in the United States.
For more information about the hotels and to visit our website, please go to http://www.towneplacesuitestempearizonamills.com and http://www.springhillsuitestempearizonamills.com.
###