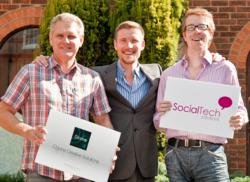 Wimborne, Dorset (PRWEB) September 22, 2011
Dorset-based strategic branding and digital agency, RT Media, has completed the acquisition of two Bournemouth based companies - social media training and consultancy business, SocialTech, and creative agency, Ozone Creative Solutions.
Ross Thornley, founder of RT Media, explains: "We recently carried out a strategic review within the business with a view to increasing resources, skills and generating growth. Both SocialTech and Ozone complement our existing capabilities and will further enhance our offering; expanding our branding expertise into all online communications and leading to a wider solution for our international, national and regional clients."
Founded in 2008, SocialTech has built a reputation as a leader of social media training and consultancy. Its clients include Channel 4, E.ON, Condé Nast and Dorset Chamber of Commerce & Industry (DCCI).
Luke Williams, Director and founder of SocialTech, comments: "I've always held the team at RT Media and the outstanding quality of their design work in the highest regard. When the opportunity to merge our businesses became available it was an obvious fit, in terms of culture and approach, and as a logical extension of their brand communication to offer an extended range of services."
As a total creative resource, Ozone Creative Solutions brings expertise from its impressive portfolio of advertising, direct mail, sales literature, Point of Sale, interactive CD and online design work to RT Media. Its 'straight talking' and 'clear creative thinking' approach is also a natural fit for RT Media, as Tony Ridgway founder of Ozone, comments:
"Our view has always been to get the job done, and get it done well. The team at RT Media has a similar approach; they like to get under the skin of the business to challenge the client to really know what is actually required to achieve their business objectives. We have already started collaborating on several campaigns and new business wins, which has shown us just how much potential we have, working together."
Steve Mills, Business Development Manager at Nutrichef said "As a long standing customer of RT we were asked to be one of the test clients they worked with pre-merger to support the re-launch of our new web site. Adding the social media knowledge from SocialTech to the branding expertise of RT worked very well, dramatically extending our reach online."
Ross adds: "This is a coming of age for RT Media. Integrating the three very like-minded, skilled and professional teams has given us a very strong platform for growth. It is a new era, both for us and for our clients, who will most certainly benefit from having this level of resource for their campaigns."
# # #