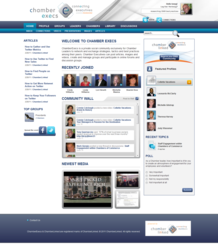 Chamber leaders need a private forum to organize events, post documents and share best practices in a secure, confidential environment
Cranston, RI (PRWEB) September 21, 2011
ChamberLinked, a social networking start-up based in Cranston, RI, announced today the official launch of ChamberExecs. The social network is the first private online community exclusively for Chamber Leaders to network and exchange strategies, tactics and best practices among their peers. In addition, Chamber Executives have the opportunity to reserve a complimentary community exclusive to their chamber.
Mark Giorgio, EVP of ChamberLinked, states, "Chamber leaders, groups and state associations need a private forum to organize events, post documents and share best practices in a secure, confidential environment. Our unique platform enables chamber executives to control the visibility of their posts. They can choose to distribute only to select individuals, throughout the chamber community or even syndicate their content across the web. State Association of Chamber Executives also use ChamberExecs to communicate to their members, share valuable content and manage events."
ChamberExecs maintains its exclusivity through a unique online verification process. "Our executive network is not open to the general public. It's reserved for chamber leaders on an invitation basis. Individuals can apply online, but will need to upload their credentials and pass our verification process", stated Tony Guarnaccia, EVP of ChamberLinked.
The social network offers a number of tools and resources for chamber professionals. Members can access a library of articles, videos and presentations on a variety business topics, industry research and case studies. They can also post content that is featured across the community and have the option to automatically syndicate their posts across popular social media sites including YouTube, SlideShare, Flickr, Facebook and Twitter.
"ChamberExecs provides several ways for chamber professionals to connect with their peers. The site offers a robust directory that members can search by organization, title and region. Members can organize groups, post events and participate in online forums and even survey the entire chamber executive community" said Tony Guarnaccia.
Membership includes access to the ChamberLinked social media platform. "For the first time ever, local chambers can create their own private business social network and promote their local membership through Social Media, local deals and member networking. We developed this platform specifically for Chambers to grow and retain their membership while generating significant non-dues revenue" added Mark Giorgio.
"The ability to access and share information in a private community offers a tremendous value for Chambers of Commerce leaders and their membership," summarized Mark Giorgio. "Utilizing a platform like ChamberExecs provides a unique opportunity for chambers leaders to connect, stay informed, and position their chamber as the social media hub for their community."
About ChamberExecs
ChamberExecs is a private social community exclusively for Chamber Leaders to network and exchange strategies, tactics and best practices among their peers. Chamber Executives can post articles, images and videos, create and manage groups and participate in online forums and discussion groups. For more information, call (401) 305-0070 or visit http://www.ChamberExecs.com .
###