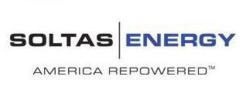 "We are extremely fortunate to have executives of Kirt and Dean's experience and ability join Soltas Energy," Andrew Barron Worden, Soltas Energy's CEO, said.
New York , NY (PRWEB) September 20, 2011
Soltas Energy, a national solar-energy solutions provider, announced today that it hired two experienced senior executives, Kirt Mayland as General Counsel and Dean Huge as Vice President of Finance, to help manage the company's growth and operations.
"We are extremely fortunate to have executives of Kirt and Dean's experience and ability join Soltas Energy," Andrew Barron Worden, Soltas Energy's CEO, said. "The company is growing very quickly. It was founded in August of this year and has already built a substantial pipeline of solar projects. It is gratifying to know that we go forward with the guidance and direction of these fine executives."
Kirt Mayland, 39, was recently in-house counsel and an energy attorney at Penn Energy Trust and Penn Energy Renewables, a Pennsylvania-based renewable energy developer of wind and solar power systems. While at Penn, Mr. Mayland helped secure approximately 70 MW in solar-power purchase agreements. Prior to his time at Penn, Mr. Mayland was an environmental attorney at Trout Unlimited and also founder and director of its Eastern Water Project.
Mr. Mayland has worked as a corporate attorney in New York City at Sidley, Austin Brown & Wood and Morgan, Lewis & Bockius. He graduated from Dartmouth College, was a Fulbright Scholar and received a Masters in Finance from the Instituto Tecnologico de Estudios Superiores, Monterry, Mexico. Mr. Mayland also received a JD from the University of Connecticut, where he was a member of the Law Review. He also received an LLM in Environmental Law from Vermont Law School.
Dean Huge, 55, has worked in all aspects of finance for the electrical energy industry including utility and private-sector financings of electrical generating assets. His capital markets expertise was instrumental in helping to bring energy-sector companies public starting with Catalyst Energy Corporation, which took advantage of changes in the privatization of power-generating assets and the sale of electricity afforded by the Public Utility Regulatory Policies Act. Dean graduated from Southern Illinois University with a degree in Finance and Accounting.
Dean is also familiar with the rigors of talking companies public. He served as chief financial officer with companies during the initial public offering process and is familiar with financial valuation of various technologies related to generation of power through hydroelectric, cogeneration and waste energy to name a few. At Soltas Energy, Dean will be responsible for reviewing all phases.
Soltas Energy Corporation is a solar energy solutions provider that delivers clean, renewable energy to commercial enterprises through power purchase agreements at rates typically below that of standard utilities. For more information about Soltas Energy, visit http://www.soltasenergy.com.
Soltas Energy subsidiaries include: Aegis Energy, Choice Solar Solutions and Sunergy America.
Contact:
Dan Charnas
Adam Friedman Associates
917.675.6244
dan(at)adam-friedman(dot)com
###