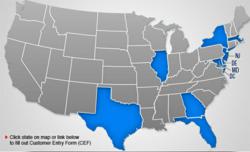 Given today's unemployment rates... this program is a great opportunity for an individual to receive industry and market-specific training...
Dallas, Texas (PRWEB) September 21, 2011
Diversegy and 5LINX® announced their exclusive commercial partnership last month and have now gone into full operation in 9 U.S. deregulated energy markets and in Ontario, Canada. With 5LINX's unique marketing approach, combined with Diversegy's energy experience, technology and knowledge of the energy markets, it is sure to be a success. This new relationship gives the tens of thousands of 5LINX Representatives the opportunity to take advantage of commercial energy in 10 deregulated energy markets by introducing energy choice to commercial customers.
The 5LINX Commercial Energy Services Program, powered by Diversegy, lets 5LINX Representatives take full advantage of the deregulated energy industry by having access to a diverse mix of energy suppliers. "Our multiple supplier strategy enables us to better address our customers' various needs and also the 5LINX Independent Representative's interest," said Mr. Alex Rodriguez, Chairman & CEO of Diversegy.
Diversegy has created and implemented a proprietary process that combines technology with their many years of energy experience. It takes a complicated process like selling commercial energy and makes it simple, compliant and effective for 5LINX Independent Representatives, energy suppliers and most important of all, end-use customers. The program consists of electricity, natural gas or both in markets where both commodities are deregulated.
5LINX representatives must become Energy Certified to participate in the Commercial Energy Services Program; this is a special training requirement administered by 5LINX's corporate offices. In addition to this certification, Diversegy supports the 5LINX Independent Representatives with ongoing energy training. The markets served are as follows:
Electricity & Natural Gas
Illinois
Maryland
Massachusetts
New Jersey
New York
Ontario, Canada
Natural Gas Only
Florida
Georgia
Texas - Houston Area Only
Electricity Only
Delaware
District of Columbia
Texas
Energy is a commodity that everyone uses, and deregulation is giving consumers choice, value and innovative product offerings.
"We believe that this partnership will foster good competitive practices in deregulated energy markets, stimulate local economies and help to bring forth more innovative energy products and services in the future", said Steven Boss, Diversegy's Executive Vice President and General Counsel.
"Given today's unemployment rates, and the fact that some experts believe many of the unemployed need to be retrained altogether, this program is a great opportunity for an individual to receive industry and market-specific training, apply themselves in a meaningful way and earn income from the deregulated energy industry,"said Craig Jerabeck, Chief Executive Officer and President of 5LINX Enterprises.
About Diversegy
Diversegy is North America's premier energy brokerage firm that specializes in providing brokering and advisory services for commercial, industrial and residential electricity and natural gas consumers. The company has access to approximately 55,000 independent sales contractors and is active in 10 U.S. deregulated energy markets. The founders have combined over 150 years of industry and business experience. Visit http://www.diversegy.com for more information.
About 5LINX
5LINX is a premier and established network marketing company that offers consumers a wide range of essential products and services that people use every day. For more information on Diversegy and 5LINX's partnership, visit http://5linx.diversegy.com.
###