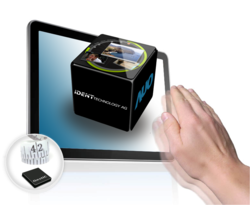 "IDENT's GestIC SoC allows us to truly unleash the third dimension for user input control via our display products," said HongJye Hong, Senior Associate Vice President of AUO Technology Unit.
Gilching, Germany and Hsinchu, Taiwan, (PRWEB) September 21, 2011
IDENT Technology AG ("IDENT") and AU Optronics Corporation (AUO) today announced a strategic partnership that will leverage IDENT's GestIC three-dimensional (3D) gesture control chip together with AUO's 2D multi touch as well as 3D Liquid Crystal Display Modules (LCM) to deliver the world's first LCM display with integrated free-space gesture control functionality. This agreement will serve the consumer electronic market with a next generation of displays, providing true 3D sensing capabilities on top of traditional 2D touch control.
The GestIC's patented technology principle is based on near-field electric sensing, which allows a very easy integration into standard touch panels of AUO at a most attractive price point. The GestIC chip's true 3D sensing capabilities provide real-time, robust, low-power tracking of free space hand or finger movements in front of a device such as a display. An user's hand or finger motion hovering over the display area is translated into a broad range of pre-defined gesture commands as well as jitter-free positional data. In comparison to optical camera based systems, it works independently of the ambient environment, eliminates detection blind spots and only requires a fraction of the power – making it ideally suited to today's battery powered devices.
Roland Aubauer, Chief Technology Officer and speaker of the IDENT managing board, commented, "The partnership between AUO and IDENT will create groundbreaking user interface (UI) solutions and change the way we interact with our devices." Klaus Zeyn, Vice President of Sales and Marketing of IDENT adds, "The opportunity for this is significant. The feedback we are getting from the market is most exceptional."
Integral to this agreement is the commitment of the two industry leaders to jointly integrate GestIC into AUO's LCM and develop the user interface concept to accelerate delivery to consumers. AUO will create, market and distribute their 2D multi touch and 3D Gesture displays that provide, along with the traditional display functionalities, a whole set of pre-loaded compelling applications that can be controlled by the consumer as simply as the wave of a hand.
"IDENT's GestIC SoC allows us to truly unleash the third dimension for user input control via our display products," said HongJye Hong, Senior Associate Vice President of AUO Technology Unit. "Through this partnership, AUO will be able to enhance the users' experience of operating touch/multi-touch displays. At the same time our product creation will not be burdened with all the technology shortcomings of other 3D user interface technologies which prevented a break-through of 3D gesture control for mobile devices so far." He concludes, "We are very pleased to create the world's first display with true 3D hand gesture sensing capability."
Editor's notes
About IDENT Technology AG
IDENT Technology AG is the industry's leading provider of intellectual property and semiconductor products for electrical near field sensing solutions. The products enable intelligent proximity sensing and real-time 3D gesture control for the consumer electronics industry such as mobile devices, game controller, tablets and mobile phones. The company's scalable and patented Z-Sense technology allows realization of disruptive human interface features, making products much smarter than previously possible and enabling natural intuitive use. IDENT Technology's solutions combined with the EZApplication software suite containing a library of 1D touch to 3D gesture recognition solutions lets manufacturers quickly bring to market products which no longer require buttons or keys to switch a device on or off, to start applications, to point, click, zoom, scroll and more on any consumer electronics device.
For more information, visit http://www.ident-technology.com.
About AU OPTRONICS
AU Optronics Corp. (AUO) is a global leader of thin film transistor liquid crystal display panels (TFT-LCD). AUO is able to provide customers with a full range of panel sizes and comprehensive applications, offering TFT-LCD panels in sizes ranging from 1.2 inches to greater than 71 inches. AUO generated NT$467.2 billion in sales revenue in 2010 (US$16 billion) with global operations in Taiwan, Mainland China, Japan, Singapore, South Korea, the U.S., and Europe. Additionally, AUO is the first pure TFT-LCD manufacturer to be successfully listed at the New York Stock Exchange (NYSE). AUO extended its market to the green energy industry in late 2008. The Display and Solar businesses were established respectively as the Company's two core businesses in October, 2010.
For more information, visit http://www.AUO.com.

2010 year end revenue converted at an exchange rate of NTD29.14:USD1.
###