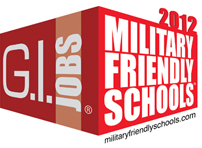 Shrewsbury, MA & Greensboro, NC (PRWEB) September 22, 2011
American Healthcare Documentation Professionals Group, the nation's leader in healthcare documentation training and services, has been recognized as a Military Friendly School by G.I. Jobs, a premier magazine for military personnel transitioning into civilian life. The 2012 Military Friendly Schools list honors the top 20 percent of colleges, universities and vocational schools that are doing the most to embrace America's military service members, veterans and military dependents as students.
"We are very pleased to be designated as a military friendly school for the third year in row," said Peter Reilly, AHDPG CEO. "We're truly grateful for the sacrifices made by the men and women of the military and their families, and we work hard to help those who secure our freedoms achieve their educational goals and dreams." We're committed to helping them start new civilian careers by offering quality online training with generous military discounts, a number of military funding programs, dedicated student support, and a variety of other resources."
American Healthcare Documentation Professionals Group is an online school, offering training programs that prepare students for careers in medical transcription, medical billing and coding and clinical information management (medical scribe). The courses incorporate input from industry experts, employers, and associations to ensure that students gain the knowledge and skills employers seek. Because the American Healthcare Documentation Professionals Group training is offered entirely online, it is also completely portable and allows students to study at a pace and on a schedule that fits each individual's unique lifestyle.
The 2012 list of Military Friendly Schools was compiled through extensive research and a data-driven survey of more than 8,000 schools nationwide conducted by G.I. Jobs magazine. Methodology, criteria and weighting for the list were developed with the assistance of an Academic Advisory Board (AAB) consisting of educators from schools across the country.
For more information on American Healthcare Documentation Professionals Group's inclusion on the 2012 Military Friendly Schools list, visit http://www.militaryfriendlyschools.com/search/profile.aspx?id=452481.
###