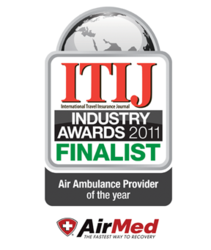 Birmingham, Alabama (PRWEB) September 22, 2011
AirMed International (http://www.airmed.com) has been nominated for the third time as Air Ambulance Provider of the Year in the prestigious industry awards presented annually by the International Travel Insurance Journal (ITIJ). Alabama-based AirMed is the only North American finalist for this award, competing against respected air ambulance companies internationally, and was nominated by a wide range of industry professionals.
AirMed is a two-time recipient of this award, winning in both 2007 and 2008, and is the only company to win the award in two consecutive years. Judging for the awards is performed by an impartial panel of experts in the global travel insurance and medical transport industries.
The awards are presented during the annual International Travel Insurance Conference which represents the finest in the air medical fields as well as insurance underwriters, assistance companies and cost containment providers. This year's awards presentation will be held November 3, 2011, in Lisbon, Portugal.
AirMed CEO Jeffrey Tolbert and Medical Services Director Michael Key will both serve on discussion panels at this year's conference, an honor in itself.
AirMed was recently named the Official Air Ambulance of INDYCAR® and continues to secure its reputation as the premier air medical company in North America by providing a seamless, unparalleled transport package to the top hospitals, insurance providers and assistance companies in the world.
About the air ambulance company AirMed International
AirMed International is the country's leading air ambulance service, offering unparalleled medical care and bedside-to-bedside transportation on a worldwide basis. Chosen as air medical transport for the world-renowned Mayo Clinic as well as a contracted carrier for the U.S. Department of Defense, AirMed operates a fleet of fully customized fixed-wing aircraft multiple locations across the globe and is the only air ambulance company with a permanent base in Asia.
For more information about AirMed International, see our website at http://www.airmed.com.
###