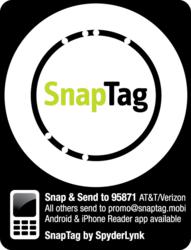 SpyderLynk will participate in several leading marketing events in September and October
(PRWEB) September 20, 2011
SpyderLynk, creator of the SnapTag™, a logo-centric, more accessible QR Code alternative, today announced its participation at several leading marketing events in September and October:
Nicole Skogg, CEO and Founder of SpyderLynk, will join an esteemed panel of mobile marketing executives for a discussion at:
OMMA Global – September 27, 2011 at 4:45 p.m. in NYC at the Manhattan Marriott Marquis:
Getting Up to Code: Making Scan Codes Work for Marketers – Snap…send…hit or miss. The mobile scan code continues to promise more than it delivers. Connecting the physical world with digital data via a QR code, Tag or other method is enormously powerful, but in many cases the consumer payoff is meager or it initiates a frustrating journey through hoops and down rabbit holes. We ask both providers and media planners to identify where scan code programs go wrong and where they go right. And even more to the point, we explore whether and how scan code use can become more than a novelty for the curious gadget fan.
Nicole Skogg and Glenn Knippenberg, President and Co-Founder of AC Golden Brewing Company, will be co-presenting at:
DMA: 2011 – October 3, 2011 at 11:15 a.m. at the Boston Convention Center:
Launching a Brand in Your Backyard: Building Brand Power and Loyalty through the Marriage of Grassroots and High Tech Marketing – During this session, participants will hear how AC Golden Brewing Company deployed 2D mobile barcode technology to reach consumers of its new beer brand, Colorado Native Lager. Colorado Native lager was launched in 2010 as a beer for the Colorado community using state-of-the-art mobile marketing technology to sell beer the old fashioned way. Instead of traditional advertising to attract consumers, the brewer launched SnapTags mobile tagging solution to create a true one-on-one dialogue with its drinkers, elevating brand marketing from an impression to a full blown conversation.
2011 Shopper Marketing Expo – October 20, 2011 at 11:00 a.m. in Chicago, IL at the Navy Pier
Navigating the Path to Purchase Using Mobile – Mobile continues to be the hot topic for retail and CPG marketers. 2D barcodes, or QR codes, are being used with greater frequency as the "connective tissue" between the shelf edge and the shopper as marketers seek ways to motivate shoppers via mobile. But creating the barcode is the easy part. This panel discussion will explore the various types of codes and the benefits and challenges of each.
In addition, Jane McPherson, SpyderLynk's Chief Marketing Officer will also lead a presentation at the:
Minnesota Interactive Marketing Association Summit – October 12, 2011 at 3:35 p.m. at the downtown Minneapolis Hilton Hotel
Unleashing the Marketing Power of Mobile Barcodes - Today, savvy advertisers recognize that engagement with mobile users needs to be an integral element in their overall marketing strategy. In particular, 2D mobile barcodes and QR codes have generated a lot of attention in 2011. But there is a lot of confusion concerning the different types of graphical markers and how to deploy them in the most efficient and successful manner. Jane McPherson will offer some of the best practices found over the past three years of executing 2D mobile barcode campaigns for major advertisers including Unilever, Anheuser-Busch InBev, Coca-Cola and Toyota — to name only a few.
SpyderLynk will also be an exhibitor demonstrating its innovative SnapTag and Social SnapTag technology at:
GSMI's Social Media Strategies Summit on September 20-22, 2011 in Boston, MA at the Hilton Boston-Logan Airport
2011 Shopper Marketing Expo on October 18-20, 2011 in Chicago, IL at the Navy Pier
For more information, or to schedule a personal meeting at the events, please contact SpyderLynk's public relations contacts listed below.
About SpyderLynk
SpyderLynk is a mobile activation and marketing platform company. SnapTags and Social SnapTags are SpyderLynk's proprietary 2D Mobile Barcode solutions enabling marketers to use meaningful logos and icons as interactive marketing tools. Consumers with smart or standard camera phones can activate SnapTags placed on packaging, advertising, signage or screens. A smart, algorithm-driven platform powers campaigns ranging from simple to sophisticated accelerating purchase cycles and driving marketing results. Brands such as Coke Zero, Revlon, L'Oreal, MillerCoors, Warner Brothers, Toyota, Bud Light and others are using SnapTags and Social SnapTags to activate best in class marketing and accelerate their social connections. Based in Denver, Colorado, SpyderLynk was founded in 2006 and can be found online at http://www.spyderlynk.com. Follow us on Facebook (facebook.com/snaptag), Twitter (@SpyderLynk) and through the #SnapTag hashtag.
###