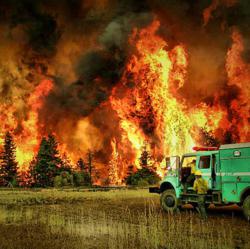 The most important thing for people to do in any emergency is to be prepared.
Neptune, NJ (PRWEB) September 22, 2011
According to FEMA over 4,000 Americans die and over 25,000 are injured in fires each year. Property loss as a result of wildfires is estimated to be at $8.6 billion annually. With this in mind, All Hands Fire Equipment, one of the nations leading wildfire equipment dealers has released useful wildfire safety information to help curb the potential damages.
It is important to understand that wildfires can spread rapidly due to dry and windy conditions. Wind can have the largest impact on a fire's behavior because of the unpredictability and because wind increases the speed and direction that fire travels.
If a wildfire occurs and an evacuation is necessary, residents will likely have very little time to collect important personal items and valuables. It is important to always be prepared and have an emergency plan, whether it is for a wildfire, a severe storm, or any similar natural disaster.
Here are some important tips regarding wildfire safety:
· It is important to be alert and aware of all surroundings. Those in areas vulnerable to wildfires need to pay extra attention to approaching wildfire danger and should check with local fire departments with for their recommendations. Knowing the main roads and evacuation routes ahead of time is recommended.
· Making sure that there are properly installed and working smoke detectors in the home can help protect residents from fire danger. All vegetation should be trimmed back so it is a safe distance the home. Gutters should be free of debris and vegetation, trees and shrubs maintained, and fire wood a safe distance from any structure. Making sure flammable and combustible containers such as propane, gasoline, kerosene are properly stored and a safe distance away from a home is imperative.
· Staying indoors with the windows closed and air conditioner running to help filter the air can protect residents from smoke and reduce the inhalation of pollutants into the body.
· If evacuation is necessary, making sure all doors and windows to the home are closed will help protect it from fire spread. Taking along important documents such as identification, insurance paperwork, cash and any other vital personal, home and/or business information . The use of fireproof bags or fireproof pouch for such documents is highly recommended as it provides safe storage and keeps all important papers together in one place..
· Limiting panic, especially when evacuating in a vehicle is key to avoiding accidents. Keeping the headlights "on", driving slowly and not driving through thick heavy smoke is a good practice in such a situation.
"The most important thing for people to do in any emergency is to be prepared. Do not wait until the last minute to take drastic measures – because it will often be too late.", notes Don Colarusso, a firefighter for more than 24 years and one of the nations' leading suppliers of Fire Boots and Fire Hoods.
For more information on emergency safety plans for any specific community, the local fire department or office of emergency management should be contacted.
###