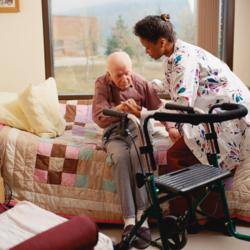 "This approval allows Care2Learn to further expand its commitment to providing caregivers with the knowledge and skills they need to care for those suffering from dementia and other related disorders." – Ryan Sparks, General Manager and VP of Sale
Tampa, Fl (PRWEB) September 22, 2011
Care2Learn, the leading provider of online healthcare CE and compliance training for the post-acute care industry, recently received state board approval for its Louisiana dementia care continuing education curriculum. The approval follows a decision by the Louisiana state legislature requiring all Adult Residential Care (ARC) facilities and Nursing Facilities (NF) caring for patients with Alzheimer's disease and related dementia disorders to complete continuing education approved by the state's designated oversight organization, Our Lady of the Lake (OLOL) Health Career Institute.
As mandated by ACT 571 of the 2008 Louisiana legislative session, a range of training levels must be provided to ARC and NF employees who interact with patients diagnosed with Alzheimer's disease or related disorders. There are also additional requirements for facilities with Special Care Units (SCU) as well as facilities that provide for ADRD patients but do have an SCU.
Care2Learn course content experts have designed 11 different course curricula to meet each of Louisiana's state requirements: five for ARC staff and six for NF staff. Each is titled using the Office of Aging and Adult Services (OAAS) curriculum code and approved for a broad spectrum of senior care employees including CNAs, feeding assistants and therapists, as well as administrators, activities staff, admissions staff, housekeeping and maintenance personnel.
"Not only are we meeting a unique need for Louisiana professionals," says Care2Learn General Manager and VP of Enterprise Sales Ryan Sparks. "But this approval allows Care2Learn to further expand its commitment to providing caregivers with the knowledge and skills they need to care for those suffering from dementia and other related disorders."
About Care2Learn
Founded in 2000, Care2Learn provides online healthcare CE and compliance training solutions for the post-acute care industry. The Care2Learn course library includes more than 800 accredited course hours delivered to more than 395,000 healthcare professionals in all 50 states. Acquired by RedVector, the premier online CE provider for the design, engineering, and construction industries, Care2Learn continues to grow by offering customized online eLearning universities to companies wishing to offer training and education solutions to their entire staff in a cost-effective, easy-to-use, and readily accessible manner. For further information, call 1-866-703-9418 or visit http://www.Care2Learn.com.
###