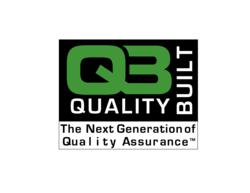 Quality Built's Builder Link® is the ideal software and I.T. platform to solve Tempo Mechanical's needs
Fort Lauderdale, Florida (PRWEB) September 21, 2011
Quality Built, LLC (Quality Built), the country's leading provider of third-party construction quality assurance and inspection management services, announces that Tempo Mechanical, Inc., one of the country's leading Heating and Cooling companies, has selected QB BuilderLink® to automate the Energy Star process for work performed by Tempo Mechanical. Energy Star is the energy savings program sponsored by the United States Environmental Protection Agency to promote energy conservation and environmental protection through energy savings. The Energy Star symbol is one of the most recognized symbols in America.
Tempo Mechanical, headquartered in Irving, Texas, is one of the leading residential HVAC installers in Texas. An employee owned company, Tempo Mechanical, has sought to bring improved accuracy and efficiency to its installations of Energy Star compliant HVAC systems. According to Thomas Murrell, Senior Vice President of Residential New Construction Services, "For years Tempo used paper checklists and reports to verify the accuracy and quality of our HVAC systems and demonstrate our compliance with Energy Star standards. We were seeking an opportunity to move from the paper world to the digital in a cost efficient and user-friendly manner that would allow us to both gather information electronically and then be able to store, access, analyze and report that data at a later date. QB BuilderLink® provided the perfect solution for our needs and has helped us automate the Energy Star process saving money and increasing our productivity."
Beth Michaelis, President of Quality Built, commented, "Tempo Mechanical is another ideal Quality Built customer, a customer-minded company concerned with delivery of quality and service to its customers. When Tempo Mechanical explained to us their desire to automate certain aspects of their data collection efforts, we knew right away that Quality Built's Builder Link® was the ideal software and I.T. platform to solve Tempo Mechanical's needs. QB BuilderLink® is a fully automated digital inspection and data management program capable of monitoring product installations, compliance with specifications and many other features that are a part of the HVAC installation and construction process." Michaelis continued, "With QB BuilderLink®, Tempo Mechanical will be able to remotely verify through digital photographs and other checkpoints that installations have been performed in accordance with Energy Star standards. And, if at a later date it is necessary to confirm the same information, it will be as easy as hitting a few keys on the keyboard. We believe that Tempo Mechanical is a first mover and a forward thinking company in deploying BuilderLink to automate its Energy Star installations."
Ted Konechne of Tempo Mechanical added, "Our world is rapidly transforming itself into a digital one, there will be those companies in their industries that lead, some that follow and others that fail, we are certain that with Quality Built's program, we will be one of the leaders providing transparency, accuracy and cost efficiency to our customers." Ted further commented "a direct by-product of the transition to digital process is the virtual total elimination of paper which is green in and of itself. We look forward to even the next step, when Energy Star eventually begins to accept digitally transmitted certificates."
Quality Built is the only construction risk inspection firm in the United States that has been awarded a certification from The International Standards Organization (ISO). In 2007, Quality Built received its first certification, ISO 9001:2000, and in March 2010, ISO recertified Quality Built under ISO 9001:2008.
About Quality Built:
Quality Built®, headquartered in Fort Lauderdale, Florida, is a leading national construction quality assurance and inspection management company. Quality Built provides third-party quality assurance services and a full spectrum of quality and risk management solutions such as property condition assessments, tainted drywall assessments, building evaluations, data collection tools, collateral inspection services, reporting and support services on high-quality residential and commercial construction projects nationwide.
Quality Built is well known for its work in Total Quality Management and was one of first firms to transition from using a traditional quality assurance approach into implementing a proven, user-friendly and fully automated, online inspection system. Quality Built's proprietary software is cost efficient, paperless, fully customizable and completely scalable to handle the demands of most inspection and quality assurance protocols.
Quality Built's Quality Management System is ISO 9001:2008 registered
For more information about Quality Built or if you are interested in automating your Energy Star program or learning about other construction related processes that can be automated by Quality Built, contact Beth R. Michaelis, President, at bmichaelis(at)qualitybuilt(dot)com. Quality Built, 401 SE 12th Street, Suite 200, Ft. Lauderdale, FL, 33316, 954.358.3503, http://www.qualitybuilt.com.
About Tempo Mechanical, Inc.
Tempo Mechanical Services has proudly served the cooling and heating needs of the Dallas-Fort Worth residential community since 1966.
As members of an employee-owned company, the Tempo Partners have a huge stake in building an organization whose long-term security is assured by providing the highest levels of service to all customers. We take pride in our efforts for the continuous development of Tempo Partners.
Our goal is to be the premier provider of residential mechanical services
for North Texas.
Over the last 10 years, Tempo has received National Residential Contractor of the Year Awards three times! The February 7, 2000 edition of the Air Conditioning Heating and Refrigeration NEWS identified Tempo as one of the 6 "Best Companies to Work For" in our industry. Tempo was also a finalist for the 2000 "Texas Award for Performance Excellence". This statewide program is based on the criteria of the Malcolm Baldridge National Quality Award. A winner of many local awards, Tempo is also a 1996 recipient of the "National Carrier Distinguished Dealer" award, which recognized Tempo for outstanding business processes and high levels of customer satisfaction. Tempo was also awarded a Quality home Comfort award From Contracting Business Magazine July 2011 as well as being an ACCA Qualified Energy Star installer.
Tempo is supported by a loyal customer base of thousands of North Texas homeowners in addition to large national homebuilding firms.
Project Manager | Tempo Mechanical
2611 East Pioneer Drive | Irving, TX 75061
972.579.2006 direct | 972.579.2095 fax
konechnet(at)tempoair(dot)com | http://www.tempoair.com
###