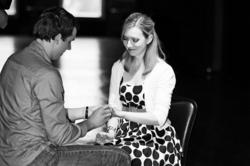 My entire body started shaking; I was so excited and had to sit down. It was the happiest moment of my life.
Los Angeles, CA (PRWEB) September 21, 2011
Today Robbins Brothers announced the five winners of its Share The Love video contest which asked romantics to share their videotaped marriage proposal for a chance to win $1,000 and possibly star in an upcoming Robbins Brothers commercial. The campaign showcased the exact moment someone gets engaged and the intense emotion associated with it, specifically the girlfriend's reaction in which most cases she covers her face indicating overwhelming surprise and happiness.
Winners were selected by an internal panel of judges based on an overall connection to the video content, creativity with planning and execution, and the recipient's reaction. One of the highest scorers, Aaron Vandenbroucke, a video production artist from Bloomington, CA created multiple art pieces that depict different moments in the couple's relationship. He then placed them around the city and led his girlfriend Tamara on a secret street art tour where they "stumbled" upon the pieces.
Faced with major obstacles to execute his elaborate proposal, Vandenbroucke admits, "Not getting arrested while putting up the art was the first challenge. Then I had my brother wait with the last piece to make sure it didn't get stolen." It was also one of the coldest days of the year and the entire time Aaron pretended to get lost in order for the two to stumble upon the art pieces. "Tamara was getting progressively colder, being from California and not used to the snow. She couldn't feel her toes," he added.
Other video winners from California include April Silvas of Sacramento and Ron Antonio of Chula Vista. Silvas, whose boyfriend Ron proposed with a Super Mario Brothers theme reveals she was "completely surprised and in awe of the room I was standing in, listening to the background music of my favorite game playing around me." The couple are avid gamers and fans of the Mario series; they enjoy keeping up with the newest developments in technology. Meanwhile, Antonio proposed to his girlfriend Sheila at the exclusive Disney Club 33 restaurant with the help of Mickey and Minnie Mouse. "The month leading to the proposal date I committed everything to memory and what you see in the video is exactly how I envisioned it," Antonio said. "When she said 'yes' I felt on top of the world!"
The final two winners, Loren Perez of Arlington, TX and Zach Hoesly of St. Charles, MO each submitted distinct, tear-jerking proposal videos that include an intense game of charades and a fake commercial shoot. Loren and boyfriend Mike love cooking together, going to the movies and hosting parties. So it's no wonder that he decided to propose marriage to her at a Christmas party with all of their friends during a game of charades. "When he dropped to bended knee I went into shock," she said. "My entire body started shaking; I was so excited and had to sit down. It was the happiest moment of my life."
Zach Hoesly, a popular on-air personality for The Remy Radio Show in Missouri had to trick his girlfriend Lauren, a ballet dancer and teacher, quite a few times during the process leading up to "Will You Marry Me?" He made her think they were shooting a commercial for a contest. "We were really shooting a music video featuring the song 'I Wanna Grow Old With You' by Adam Sandler." Hoesly admits, "The crazy part, it had to be shot and edited in ONE day without her knowing!! Needless to say, she had no idea and was totally surprised as she sat down to watch the video." Zach was thrilled Lauren said "yes" but didn't know how she'd react after being blindsided. "Let's just say, she had a LOT of questions!!"
To watch Robbins Brothers' Share The Love winning proposal videos, visit Fully Engaged.
###