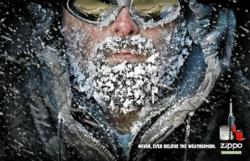 The spots that resonate are often based on personal experience.
Sherman Oaks, California (PRWEB) September 22, 2011
Two radio spots for Zippo, written and produced by the Famous Radio Ranch, have been selected as finalists in the 2011 Radio Mercury Awards. "Frozen Snot" and "Button My Pants" will compete with the other finalists in New York City on Tuesday, October 4th. The spots can be heard with all the other finalists here.
The Radio Ranch's creative team, consisting of Lisa Orkin, Michael "Feeve" LeFevre, and Haris Orkin, collaborated on the campaign for Zippo's line of Outdoor products. According to Zippo, sales this year have been up 10%.
"We're very proud to be finalists," said Ranch Creative Director, Haris Orkin, "Radio is a medium that can touch people on a very personal level. In a time when money is tight and companies are carefully watching every advertising dollar, radio continues to be an affordable, very effective medium that can reach people where they live; in their cars, on their computers, and even on their smart phones."
"The spots that resonate are often based on personal experience," said Feeve. "And both of the Zippo radio spots were taken from our own lives. That's all I'm saying!"
Founded by Dick Orkin, the Famous Radio Ranch has had a long award-winning history of creating cutting-edge radio advertising.
The Radio Mercury Awards are radio advertising's premiere awards show
The Famous Radio Ranch in Sherman Oaks, California, also has a full service recording facility, specializing in audio for radio, TV, and video games. Most recently, the Ranch recorded all the audio for Dead Island, a new video game from Deep Silver and Techland.
###