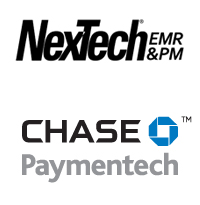 NexTech is pleased to provide its thousands of clients a direct integration to Chase Paymentech within the NexTech software solution.
Tampa, FL (PRWEB) September 21, 2011
NexTech, the leader in Electronic Medical Records (EMR), Practice Management, Billing, and Marketing software, has established a marketing agreement with Chase Paymentech, a global leader in payment processing. This arrangement will provide NexTech software users a solution that will generate more effective collections of funds for services rendered. NexTech clients will be able to check-out patients quickly and conveniently while easily collecting debit and credit card payments directly through the NexTech software. After processing the patient's payment in the NexTech system, important billing records will automatically update within the NexTech Software, saving physician's and staff time on administrative tasks.
"NexTech is pleased to provide its thousands of clients a direct integration to Chase Paymentech within the NexTech software solution. Chase Paymentech is the gold standard in payment processing and NexTech is the gold standard for Medical Billing, Practice Management and Electronic Medical Records; a winning combination for our clients," said Christina M. Majeed, NexTech Vice President Business Development, New Products, and Technologies.
"By working closely with NexTech, Chase Paymentech continues to develop integrated solutions that drive seamless payment processing for our customers. The health care market can strongly benefit from a payment acceptance solution that is cost-effective, while providing a real opportunity to reduce outstanding receivables. Chase Paymentech, in combination with NexTech provides users a simple enrollment process, coupled with a fully compliant and integrated payment module, allowing providers to focus on what's important to them – patient care," said Peter Gasparro, Group Executive of Partnership Programs, Chase Paymentech.
About Chase Paymentech:
Paymentech, LLC ("Chase Paymentech"), a subsidiary of JPMorgan Chase (JPMC), is a leading provider of payment processing and merchant acquiring. The company's proprietary platforms enable integrated solutions for all payment types, including credit, debit, prepaid stored value and electronic check processing; as well as digital, alternative and mobile payment options. Chase Paymentech has uniquely combined proven payment technology with a long legacy of merchant advocacy that creates quantifiable value for companies large and small. In 2010, Chase Paymentech processed 20.5 billion transactions with a value of $469.3 billion, including an estimated half of all global Internet transactions. In addition to the ability to authorize transactions in more than 130 currencies, the company provides business analytics and information services, fraud detection and data security solutions.
About NexTech
NexTech offers fully integrated Electronic Medical Records (EMR/EHR), Practice Management and Marketing software designed for Dermatologists, Plastic Surgeons, Medical Spas, Ophthalmologists, Otolaryngologists, Gastroenterologists, Urologists, Bariatric Surgeons, Cardiologists, Obstetricians, and Surgery Centers.
With a client base of over 3,500 surgeons and physicians and 30,000 in staff worldwide, NexTech Practice 2011 is comprehensive, completely modular, and CCHIT 2011® certified. Main modules and features include Electronic Medical Records, E-Billing, Scheduling, Surgery Center Management, Financial Accounting, E-Prescribing, Marketing, Inventory, Contact Management, Lab Integration, Interfaces with Devices and Equipment, Patient/Prospect Tracking, Procedure & Surgery Quotes, Patient Education Forms, Consent Forms, Microsoft Word Mass Merge, Reporting, Patient Portal Website Integration, Photo Archiving, and Links to PDAs and Smart Phones. NexTech Practice 2011 is an ONC-ATCB 2011/2012 Complete EHR.
*NexTech Practice v 9.7 - Certification number CC-1112-998990-2 - learn more
# # #