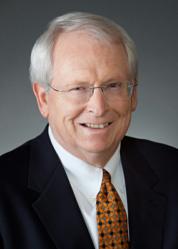 Tampa, Fla., USA (PRWEB) September 21, 2011
Jerry E. Trapnell, who has served as executive vice president and chief accreditation officer of AACSB International (AACSB) since 2004, has announced that he will be stepping down from his current role, effective September 2012.
As the organization's first chief accreditation officer, Trapnell's tenure has been marked with considerable accomplishments, including the implementation of the first global accreditation standards for management education, which were adopted in April 2003 while he served as chair of the Board of Directors of AACSB International, and dean of the College of Business and Behavioral Science at Clemson University.
The new accreditation standards, and their implementation, occurred during an era of rapid evolution in management education—resulting in a significant growth and international reach of AACSB's accreditation services. Throughout this timeframe, Trapnell's guidance ensured that the standards and their interpretations evolved to embrace a more global perspective and applicability. Since 2004, the number of institutions to earn accreditation from outside of the United States has increase by 180%.
"Jerry Trapnell has been a critical asset for AACSB. His deep academic experience as a faculty member and administrator at AACSB-accredited schools made him the perfect person to assume responsibility for accreditation at a time of significant change for AACSB," said Jan Williams chair of the Board of Directors of AACSB International, and dean of the College of Business at the University of Tennessee at Knoxville. "He took the lead during a time of transition for both the processes and standards, and at a critical time in the organization's history. Jerry will be greatly missed at AACSB—to say that we will have a difficult time replacing him is an understatement."
"Serving as AACSB's first executive vice president and chief accreditation officer has been and continues to be an incredible honor and a most rewarding experience," said Trapnell. "Through the collective efforts of our volunteer network and our staff, I am very proud of our progress in extending AACSB's positive impact into the international business school community."
Management educators, particularly those that are AACSB members or accredited schools, have been direct beneficiaries of Trapnell's dedication and leadership. Trapnell served on the AACSB International Board of Directors from 1999-2004, was chair of the Accounting Accreditation Committee, and served on numerous peer review teams. In addition, his work on key committees such as the Special Committee on Global Accreditation Strategy, the Blue Ribbon Committee on Accreditation Quality, the European Advisory Council, and the Doctoral Faculty Shortage Working Group has helped to change the face of management education.
"Jerry Trapnell, as the organization's first chief accreditation officer, has set the standard for AACSB accreditations' renowned quality and global mindset," said John J. Fernandes, president and chief executive officer of AACSB International. "His insight and dedication has greatly benefited the field of management education, I am very pleased that he will continue to provide valuable leadership in accounting accreditation as of October 2012."
As a contributor and presenter, Trapnell also can be found on the agenda at many of the 65 AACSB conferences, seminars, or webinars offered globally each year. His expertise in areas of accreditation, standards interpretation, faculty academic qualifications, assurance of learning, and doctoral faculty shortages has served as instrumental at these events.
"AACSB accreditation works, and it significantly and positively affects business schools in support of their quality and continuous improvement efforts," commented Trapnell. "To see the fruits of these efforts is a great reward, and the opportunity to build relationships with talented educators from around the world will always be treasured."
In September, after eight years, Trapnell will take on a part-time special advisory role with AACSB. As he reflected back across the years and into the future, Trapnell confidently affirmed that, "AACSB has developed an entire staff that is remarkable in their commitment to the organization's mission, and their contributions to our success in support of the opportunities going forward will truly be monumental. They are superb. I look forward to this year and to a new role with AACSB. I know that the work and the organization will be in great hands, and that the best is yet to come."
Trapnell joined AACSB after serving as dean of the College of Business and Behavioral Science at Clemson University. From 1995-96 he served as interim dean for the College of Health, Education, and Human Development, and director and professor of accountancy at Clemson's School of Accountancy from 1986-93. From 1976-86 he was professor of accounting in the Department of Accounting at Louisiana State University-Baton Rouge (LSU). He earned his Ph.D. from the University of Georgia, and a bachelor's and master's degree from Clemson University.
A confidential search has begun for Trapnell's successor. Interested candidates should contact Jennifer McIntosh, assistant vice president of human resources, via email at Jennifer(at)aacsb(dot)edu or visit BizSchoolJobs.com for more information on this search.
About AACSB International
AACSB International (The Association to Advance Collegiate Schools of Business), founded in 1916, is an association of more than 1,200 educational institutions, businesses, and other organizations in 78 countries and territories. AACSB's mission is to advance quality management education worldwide through accreditation, thought leadership, and value-added services. As the premier accreditation body for institutions offering undergraduate, master's, and doctorate degrees in business and accounting, the association also conducts a wide array of conferences and seminar programs at locations throughout the world. AACSB's global headquarters is located in Tampa, Florida, USA and its Asia headquarters is located in Singapore.
For more information, please visit http://www.aacsb.edu.
###