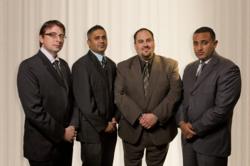 Los Angeles, CA (PRWEB) September 20, 2011
ICDC College's international division now offers foreign students the ability to pursue an American education both online and at the college's main campus in Hollywood, California. The international division will launch an "ICDC College Educational World Tour" that will expand the college's global reach into Canada, Latin America and Europe over the next few months.
ICDC College's Director of Global Development states, "ICDC College's global expansion provides our institution an excellent opportunity to offer international students a high-quality American education and fulfill their life-long dream; to study abroad in the U.S. in careers with potential world-wide impact."
The "ICDC College Educational World Tour" will launch in Brazil where ICDC College will join a number of educators, represented from countries such as Australia, Canada, Italy, the Netherlands, United Kingdom and the United States at the 19th annual FPP Edu-Media International Education Brazil Expo on September 20-21, 2011 in Rio de Janeiro. ICDC College's visit to Brazil is timely due to a number of recent published reports that Latin American countries are encouraging more students to study abroad, especially due to the popularity of pursuing advanced studies in the United States.
"Traditionally, Brazil sends many students to study at educational institutions in the United States. ICDC College's unique degree and vocational programs will resonate with people in Brazil and will provide yet another option for those individuals seeking higher education," says ICDC College's Director of Global Development.
About ICDC College
ICDC College offers Associate Degree programs and Fast-Track Diploma programs online in career fields such as Alcohol and Drug Counseling, Homeland Security, Forensic Scientist, Healthcare Management, and Business Management and Accounting. ICDC College also offers 18 diploma/certificates on campus including Alcohol and Drug Counseling, Homeland Security and Investigation, Medical Assistant, Computerized Accounting, Medical Office Management, Physical Therapy Aide, Dental Laboratory Technician, and many more. ICDC College, in affiliation with Los Angeles Unified School District, offers G.E.D. and ESL classes for its students and the general public as a community service. ICDC College has multiple campus locations throughout Southern California. Government financial aid, including veteran benefits, is available for those students who qualify. ICDC College is accredited by the Accrediting Commission of Career Schools and Colleges and is approved by the Department of Veteran Affairs as an Institution of Higher Learning (IHL). ICDC College is named as a 2011 Military Friendly School and ranks among the top 15% of all colleges, universities and trade schools which are doing the most to embrace America's veterans, as reported by G.I. Jobs. For more information about ICDC College, call 1-888-592-4232 or visit http://www.icdccollege.edu. For more information about our graduation rates, the median debt of students who completed the programs, and other important information, please visit http://www.icdccollege.edu. Certain restrictions may apply. Programs vary by campus.