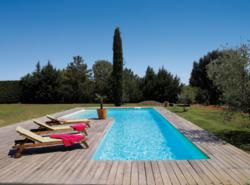 "We have been very excited and encouraged by our customers' response to the quality of Desjoyaux products and offerings." Scott Thompson, EVP
Atlanta, GA (PRWEB) September 22, 2011
Desjoyaux Pools is an established European brand with over fifty years of brand recognition. The name Desjoyaux (pronounced deige-y-o) was virtually unknown in the United States until the Desjoyaux Pools North American team opened their corporate headquarters and flagship showroom, April 2, 2011 in Roswell, GA.
Within the first two months, Desjoyaux experienced record pool sales. The growth continued throughout the summer to surpass all projections, and the momentum hasn't stopped. Local homeowners continue to express interest in the unique design and technology, and pool sales and installations have been scheduled well into the fall & winter. Also scheduled for the fall, current and prospective customers can look forward to purchasing parts and/or upgrades with ease, with the upcoming launch of the Desjoyaux web store.
The warehouse in Roswell is also being relocated to a larger, 10,000 sq. foot, facility to accommodate the rapid growth. The existing warehouse will be transformed into a technical training facility for Desjoyaux subcontractors to prepare them for the unique technology and installation techniques proprietary to Desjoyaux.
Crucial to these landmark successes, was the formation of the Desjoyaux Pools Executive Team. Sr. Vice President of Franchise Operations, David McDougall joined the team to grow the franchise, and to streamline the systems and tools for franchise training. And Showroom Manager, Russel W Rankenburg was brought on to bring efficiencies to the construction timelines and overall installation process. Executive Vice President, Scott Thompson spearheads the team, being charged with overseeing the US growth of the international brand. "Desjoyaux has a rich history in France and has successfully maintained its position as a leader in the pool industry," said Thompson, "We have been very excited and encouraged by our customers' response to the quality of Desjoyaux products and offerings."
About Desjoyaux
Desjoyaux Pools employs more than 5,000 people worldwide, manufacturing pools of the highest quality. The Desjoyaux Group maintains the distinction as the first exclusive international network with more than 500 sale points throughout the world and maintains an 800,000 sq. foot manufacturing & warehousing facility in Loire, France. For more information about Desjoyaux, visit http://www.livewithoutregret.com.
###