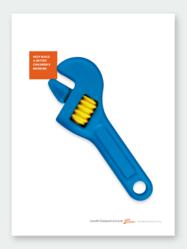 Having work selected by Communication Arts is a testament of our creative firepower
Lincoln, Neb. (PRWEB) September 20, 2011
Communication Arts features a poster design from Bailey Lauerman in the publication's 2011 Design Annual, celebrating the best design of a public service campaign. Bailey Lauerman's work to promote Lincoln Children's Museum's renovation project has been selected from more than 4,200 entries worldwide.
"Having work selected by Communication Arts is a testament of our creative firepower," said Carter Weitz, president and chief creative officer. "Our agency continually shines in the Communication Arts annuals—something we're very proud of."
The Lincoln Children's Museum sought to raise $5 million to expand its exhibits and deepen the learning experience for children. As part of a larger integrated fundraising campaign, this poster series used iconic, colorful toy tools to communicate a simple message: Help us build a better museum for our kids. The poster series currently appears in the museum to engage support from patrons and individuals around the greater metro area.
Each year Communication Arts invites the world's leading professionals and agencies from advertising, graphic design, photography, illustration, interactive and typography design communities to be considered for inclusion in their annual books in each of these visual art fields. From among the thousands of submissions, judges choose the most compelling work of the year in each category. Winning artists and their work appear in the annuals, which feature the most accomplished agencies in the industry.
To see more examples of past Communication Arts features and work visit baileylauerman.com/commarts.
About Bailey Lauerman
Bailey Lauerman supports some of America's leading brands and companies, including ABC World News, Disney, Cessna Aircraft, Pepsi, ConAgra Foods, TD Ameritrade and Union Pacific. The agency was recently ranked among the top 10 most effective independent agencies in America, according to the 2011 Effie Effectiveness Index issued by Effie Worldwide. Bailey Lauerman's work is consistently honored in national creative competitions, including the Effie Awards, One Show, Graphis, the Clio Awards, the ADDY Awards and the O'Toole Awards. More information at baileylauerman.com
###