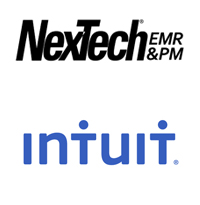 NexTech is pleased to provide its thousands of clients a direct integration to Intuit Payment Solutions within the NexTech software solution.
Tampa, FL (PRWEB) September 21, 2011
NexTech, the leader in Electronic Medical Records (EMR), Practice Management, Billing, and Marketing software, has partnered with Intuit Payment Solutions the makers of Quickbooks to integrate payment processing directly into your NexTech Software. NexTech clients will be able to check-out patients quickly and conveniently while easily collecting credit card payments directly through the NexTech system. After processing the patient's payment in the NexTech system, important billing records will automatically update within the NexTech Software, saving time for the office.
"NexTech is pleased to provide its thousands of clients a direct integration to Intuit Payment Solutions within the NexTech software solution. Intuit Payment Solutions is a leader in payment processing and NexTech is an industry leader in Medical Billing, Practice Management and Electronic Medical Records; a winning combination and offering for our clients," said Christina M. Majeed, NexTech Vice President Business Development, New Products, and Technologies.
"We are excited about the Intuit and NexTech partnership, which will provide additional value services delivered to practices using NexTech. This integrated credit card processing solution eliminates double data entry, and streamlines the accounting and reconciliation process. The offer is both a time and money saving solution," said River Cohen, IMS Payment Division Vice President, Business Software Solutions.
About Intuit Payment Solutions
Intuit is one of the largest small business payments processors in the U.S. It processes annually more than $17 billion in transactions for approximately 300,000 small businesses. Over the last 10 years, Intuit has helped small businesses get paid and improve cash flow with a complete family of end-to-end electronic payment solutions. This includes services to process credit cards, e-checks and online payments via a variety of channels including mobile devices, Web and retail stores as well as integrated solutions such as QuickBooks.
About NexTech
NexTech offers fully integrated Electronic Medical Records (EMR/EHR), Practice Management and Marketing software designed for Dermatologists, Plastic Surgeons, Medical Spas, Ophthalmologists, Urologists, Bariatric Surgeons, Cardiologists, Obstetricians, and Surgery Centers.
With a client base of over 3,500 surgeons and physicians and 30,000 in staff worldwide, NexTech Practice 2011 is comprehensive, completely modular, and CCHIT 2011® certified. Main modules and features include Electronic Medical Records, E-Billing, Scheduling, Surgery Center Management, Financial Accounting, E-Prescribing, Marketing, Inventory, Contact Management, Lab Integration, Interfaces with Devices and Equipment, Patient/Prospect Tracking, Procedure & Surgery Quotes, Patient Education Forms, Consent Forms, Microsoft Word Mass Merge, Reporting, Patient Portal Website Integration, Photo Archiving, and Links to PDAs and Smart Phones. NexTech Practice 2011 is an ONC-ATCB 2011/2012 Complete EHR.
*NexTech Practice v 9.7 - Certification number CC-1112-998990-2 - learn more
# # #