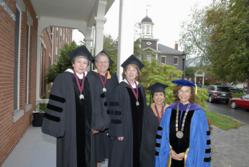 "Deborah Morton honorees share a predisposition to be outer-directed and concerned about others," said Maine's Former First Lady Mary Herman.
Portland, Maine (PRWEB) September 20, 2011
The University of New England celebrated a long-held tradition of honoring outstanding Maine women of achievement at the 50th Annual Deborah Morton Convocation and Awards Ceremony September 20, 2011 on the Portland Campus. The event is one of the oldest in the country celebrating achievements of women.
The Deborah Morton award, first presented in 1961, was the first annual award in Maine to honor women's achievements, specifically those who have achieved high distinction in their careers and public service or whose leadership in civic, cultural or social causes has been exceptional. This year's event pays tribute to past recipients in addition to four new inductees: Kaye Flanagan, Lynn Kraemer Goldfarb, Gail Kelly and Donna M. Loring. This year's scholarship recipients are UNE students: Amanda Romero '12, Dental Hygiene and Sharon Staples '13, Nursing.
The event has honored 185 Maine women in the past 50 years including Senator Margaret Chase Smith, Poet and Novelist May Sarton, Olympian Joan Benoit Samuelson, Artist Dahlov Ipcar and former Maine First Lady Mary Herman.
Award History
The award was named in memory of Deborah Morton of Round Pond, Maine, valedictorian of the 1879 class of the Westbrook Seminary – the forerunner of Westbrook College which merged with the University of New England in 1996. Morton was a teacher, dean, linguist, historian and prominent Portland civic leader whose service to Westbrook College spanned more than 60 years.
The Deborah Morton Society's support of the Deborah Morton Scholarship is one of the most important aspects of the society. The committee strives to serve as role models to young women, and recognizes its ability to encourage aspirations through scholarships which recognize achievements and provide essential financial aid.
For more information about the Deborah Morton Society, view http://www.une.edu/deborahmorton.
Named one of the best regional universities in America by U.S. News & World Report, UNE is a leader in health sciences education, biomedical research and the liberal arts. It offers student-centered, interdisciplinary programs in the College of Osteopathic Medicine, Westbrook College of Health Professions, College of Arts and Sciences, College of Pharmacy, and the College of Graduate Studies. For more information, visit http://www.une.edu.
###