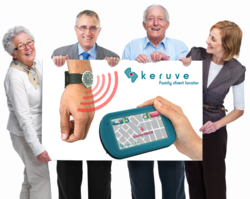 Keruve is a state of the art product with a highly valuable solution for people with Alzheimer's. Our mission is to continue growing worldwide and provide the peace of mind families and carers are looking for.
(PRWEB) September 21, 2011
On World Alzheimer´s Day, which will take place tomorrow the 21st of September, Vision Localisation Systems, the company that has pioneered in specialized tracking systems for people, has announced the start of its commercialization in the USA for its innovative direct locator, Keruve. This device´s objective is to improve the quality of life for millions of elderly people with Alzheimer's, and their families and carers.
Keruve is a direct locator designed especially for people with Alzheimer´s that still maintain autonomy and want to go out for walks. It consists of a GPS tracking watch, which is designed to emulate a conventional wristwatch, worn by the person with Alzheimer´s and a portable receiver for the family member or carer. With the press of a button, they can locate and see exactly where they can find the person with Alzheimer´s. This system has been around since 2007 as a solution for people with Alzheimer´s that wander every now and then and are not able to return home. Keruve helps families to be relaxed if their loved one gets lost because they can locate and quickly find them.
Elderly people with Alzheimer´s are susceptible to getting lost at any given moment. If they´re walking down the street, and for some reason feel disoriented, then this could cause them to lose their sense of direction. When a family is scared, their first impulse is restrict their loved one from going out alone, which increases the irritability and levels of stress of the person with Alzheimer´s and their family members, as well. This stress can easily result in a much more rapid disease, so for the person´s well-being it is advised that they continue with normal activities as long as possible, like taking walks and going out to interact with others.
The functionality of the portable receiver is very simple. The family member, or carer, only has to push a button on the tactile receiver screen and a map will appear with the exact position of the person wearing the GPS watch. If the carer needs to go looking for them, they just need to take the receiver with them, and the map will show exactly what direction they need to go in so that they can arrive to that direction, even if there are no street references available. The Keruve portable receiver was designed taking into acount that the family members and carers might be older and may not be that technologically savvy with new technologies. This is why the user interface is extremely intuitive and simple to use.
For the tranquility of the family, the GPS Watch contains a stainless steel safety lock so that the the person cannot take it off. It also notifies the family member if they begin to wander off and leave their usual area. Additionally, it has a self-lighting system that is very useful if the person forgets to turn on the watch. Thanks to its 4 tracking systems (SBAS-GPS, Vision-indoor, Vision-Cellid y T-GSM), Keruve is able to find the person wearing the watch even if they are inside a building or in a basement. The device has a battery life up to 3.5 days operating normally (4.5 days on batter-saving mode). The GPS watch Keruve includes an alarm button and, additionally, an emergency Localisation alternative method from a cell phone that allows you to locate the person with Alzheimer´s in the case that portable receiver accidentally breaks.
The Keruve GPS watch that is worn by the person with Alzheimer´s has a discreet and elegant design that makes it go unnoticed (http://www.keruve.com/images-locator/ ). This unique feature is why an elderly person likes to wear the watch, because they consider it as something usual and won´t try to force it off if they feel disorientated. There are different models and designs available, for men and women. In all of them, the strap is made of a thermosensitive material that adapts to the shape of the wrist, body temperature, and provides comfort for the watch wearer.
The Keruve tracking system is reliable and simple, and locates without the necessity of intermediaries, with no distance limits, from any place, quickly and effectively. The watch and receiver communicate through the mobile phone network. The tracking wristwatch is light and easy to use, which comes with the maps, interface and manuals in English.
The Keruve GPS locator for people with Alzheimer´s has been used since 2007 on every continent by hundreds of families, Alzheimer´s associations, and public/private organisations.
Keruve is now available for pre-orders in the USA. Shipping will start on October 15, 2011. The device costs $1,425 (no contracts or monthly fees) and can be ordered on the web at http://www.keruve.com or by telephone calling (+1)917.310.0973. Customers have a 30 day trial period and a two year guarantee.
About VISION Localization Systems
Vision Localization Systems is the commercial name of the parent company VISION Sistemas de Localización, a company that has been a pioneer in the research, design and commercialisation of tracking systems for people with a high risk of wandering or getting lost. In 2004, the company decided to concentrate its efforts in the sectors of society with serious issues and demand a solution. For this reason, in its first stage it focused on the development of Keruve, a Direct Family Locator specialized for people with Alzheimer´s. Distinguished with a dozen of awards, Keruve´s objective is to make the live´s of people affected from this illness a happier one. VISION works in collaboration with its clients, associations and neurologists to aid the development of its product and attends to clients in over 20 countries. For more information, please visit http://www.keruve.com .
If you would like more information or images in high resolution, please get in touch with me.
VISION Localization Systems
Robert.dyson(at)visionlocalization(dot)com
(+1)917.310.0973
###