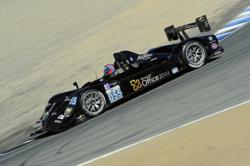 I'm very excited to be joining Level 5 Motorsports for Petit Le Mans.
Madison, Wis. (PRWEB) September 20, 2011
Adding to the momentum following a successful debut of its new HPD last weekend, Level 5 Motorsports has tabbed prototype veteran Marino Franchitti as the team's fifth and final driver for its upcoming two-car attack at the 14th annual Petit Le Mans powered by Mazda.
Franchitti will join three-time national driving champion Scott Tucker and 2009 American Le Mans Series LMP2 champion Luis Diaz in Level 5's No. 055 Microsoft Office 2010-sponsored HPD ARX-01g in the 1,000-mile/10-hour marathon at Road Atlanta, which serves as the season-ending round for the American Le Mans Series Presented by Tequila Patrón.
"I'm very excited to be joining Level 5 Motorsports for Petit Le Mans," Franchitti said. "Having driven every iteration of the HPD up until this new model, I can't wait to get in the new ARX-01g next week. Level 5 is no doubt a top team that's putting all of the resources they need behind this program. It's very good to be coming back in with a top ride in one of the biggest endurance races of the year."
The 33-year-old Scot, brother of three-time IZOD IndyCar Series champion Dario Franchitti, is one of the most experienced drivers at the wheel of the HPD family of prototypes. In 2007, Franchitti was a part of the initial year of development of the ARX-01a with Andretti Green Racing before moving onto a two-year stint with Dyson Racing, also in LMP2.
Franchitti returned to the Honda-powered prototypes in 2010 with Highcroft Racing as the third driver for its ARX-01c effort in the American Le Mans Series and 24 Hours of Le Mans, earning the overall pole position at the Twelve Hours of Sebring and wins at Laguna Seca and Petit Le Mans. His efforts helped propel Highcroft to drivers' and teams' championship.
Most recently, Franchitti earned a runner-up result in this year's Twelve Hours of Sebring with Highcroft's HPD ARX-01e LMP1 car. He also played a crucial role in the development of HPD's 2.8-liter twin turbo V6 engine, which powers Level 5's new LMP2 cars.
"A car is a car and guys like Scott [Tucker], Christophe [Bouchut] and Joao [Barbosa] are good to drive it to the maximum that it's capable of," Franchitti said. "But especially me, having driven every iteration of it now, and Luis as well with being involved, it certainly helps with bringing experience.
"It's also great working with [engineer] Rick Mayer, who I worked with before and [engineer] Jeff Braun. There's a lot of people that I've worked with before that are on the team. To me, it seems like the ultimate situation. I'm really excited to get back out there and into the American Le Mans Series and back into a prototype."
Franchitti, who will be searching for his third consecutive Petit Le Mans LMP2 victory, will have his first opportunity to sample the HPD ARX-01g early next week during a two-day test at Road Atlanta. Level 5 anticipates having its second car, the Intercontinental Le Mans Cup-designated No. 33 HPD for Tucker, Christophe Bouchut and Joao Barbosa, also on track.
The 2011 American Le Mans Series Presented by Tequila Patrón season concludes on Oct. 1 with the 14th annual Petit Le Mans powered by Mazda at Road Atlanta. The race will air on ABC at 4 p.m. ET on Sunday, Oct. 2. Live coverage will be available in the U.S. on ESPN3 or outside the U.S. on americanlemans.com. Rogers Sportnet One in Canada and MotorsTV in Europe will also provide coverage. Ticket and schedule information is available on the ALMS schedule page.
About Level 5 Motorsports
Level 5 Motorsports has fielded successful entries in GT and Prototype classes in the American Le Mans Series, GRAND-AM Rolex Sports Car Series Presented by Crown Royal Cask No. 16, Ferrari Challenge Series and the Sports Car Club of America since 2008. The team has competed throughout North America and Europe, extensively in France and Spain. Team owner and driver Scott Tucker has earned three national championships and has more than 70 podium finishes and 50 victories in his driving career. Level 5 is based in Madison, Wisconsin. http://www.Level5Motorsports.com
###