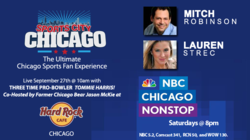 We are very excited to have Tommie on the show. He has been an exciting Chicago athlete and we look forward to him sharing his journey!" - Jason Groh, Executive Producer
Chicago, IL (PRWEB) September 21, 2011
When Three-time professional bowler and former Chicago Bear Tommie Harris takes the stage at Hard Rock Cafe on Tuesday, September 27, 2011, the long awaited NFL season that almost never was will be well under way.   In its free, live taping open to the public, Sports City Chicago (http://www.sportscitychicago.com) and Hard Rock Cafe Chicago (http://www.hardrock.com/chicago) welcome former Chicago Bear Tommie Harris to the city's newest sports television talk show.
While filmed live on the Hard Rock Cafe Chicago Stage and airing on NBC Chicago Nonstop, Emmy Award winning reporter Mitch Robinson and co-host former Chicago Bear Jason McKie will go behind Harris's journey in the sports industry. The show will take audience members through his adolescence in Texas, his college years at the University of Oklahoma and his Pro-Bowl career in the NFL. Co-Host Lauren Strec will navigate fan questions during a designated "break out session" at the end of the show.
Executive Producer Jason Groh explains, "We are very excited to have Tommie on the show. He has been an exciting Chicago athlete and we look forward to him sharing his journey."  As Sports City Chicago is different from most sports talk shows because it covers the athletes' life journey – not just the day-to-day industry business, Groh elaborates, "It will really give Chicago Sports fans the opportunity to get an inside look at life in professional sports."
In collaboration with the sports-focused agenda, Sports City Chicago also highlights local bands and live performers. Playing audience members in and out of segments will be musical guest Band Called Catch.  Combining local live music with local athletes, Sports City Chicago sets out to become Chicago's all encompassing sports & entertainment experience.
Sports City Chicago streams live on UStream and airs on the NBC Chicago Nonstop Channel Saturday nights at 8pm.
###