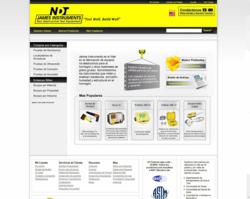 (PRWEB) September 26, 2011
James Instruments Inc., the leading manufacturer of Non-Destructive Testing equipment for the construction and other coarse grained materials, primarily concrete announces the official launch of its Spanish language website to support its Customers and Distributors in Latin America and other area's of the Spanish speaking world. The website is now live at espanol.ndtjames.com. The Latin American visitors from the Colombia, Peru, Bolivia, Paraguay, Uruguay, Ecuador, Argentina, Chile, Venezuela, Mexico, Panama, Puerto Rico, Costa Rica, Honduras, Guatemala, El Salvador and Nicaragua will now be able to access the NDTJames website in their local language.
Earlier in year 2010, James Instruments Inc. had launched its new website at http://www.ndtjames.com, as a step ahead towards strengthening its brand identity. This new website with its world class look and feel has the global outlook of the James Instruments brand bringing an easy and friendly user interface to its visitors, targeting to address needs of both the distributors and the end users.
And now with its new Spanish website, James Instruments aims to increase its brand connection with its Latin American, Spanish speaking customers and distributors. This will allow further engaging with and serving the Latin American market which consists of 80% of Spanish speaking population.
James Instruments' President, Mr. Michael Hoag said, "James Instruments is a global brand in the construction testing community. I am happy with the launch of the Latin American, Spanish language website as James Instruments is already the preferred construction testing equipment choice among the professional community. As we constantly strive to improve our customer's experience with James Instruments, this Latin American Spanish website will enable us to provide our services to many more professionals across Latin America in their native language."
James Instruments' Vice-President, Mr Nestor Chonillo added, "The launch of new Latin American Spanish version of our website is a major step forward to focus more Latin America market penetration opportunities. With this website, we enhance our web presence along with effective medium of communication with our Spanish speaking customers and distributors and our aim to reach as many construction professionals as possible can also be achieved."
James Instruments Inc. is the leading manufacturer of non-destructive test equipment for construction materials, specifically concrete, ceramic, wood, masonry, mortar, gypsum and other coarse grained materials. We supply the instruments that: measure strength, both compressive and tensile, locate rebar and other objects in concrete and masonry, determine density and analyze materials ultrasonically, analyze corrosion and, finally, determine moisture in concrete and other construction materials. And more. James Instruments -- rugged, quality equipment for field use -- backed by factory service and an ongoing program of research and development.
###