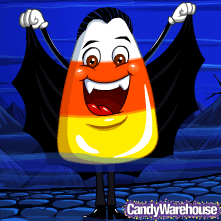 Now it's easier than ever to plan Halloween parties around the best selection of scary, creepy, gross and downright icky Halloween candies.
El Segundo, CA (PRWEB) September 21, 2011
While many Americans were enjoying their summer vacations, the diligent elves at CandyWarehouse.com have been ramping up for an exciting fall season, featuring innovative Microsoft business management functionality, new web features and a fresh round of accolades that mark the fifth consecutive year that CandyWarehouse.com has been ranked among the Inc. 5000 Fastest Growing Private Companies in America.
Inc. Magazine recently announced the 2011 list at its website, placing CandyWarehouse.com – ranked at number 2,703 – as the top internet candy store in the world. (For the listing, see: http://www.candywarehouse.com/inc5000.html)
"We couldn't be more thrilled," said founder and president Christopher Pratt. "Five years in the top 5000 is an incredible public recognition, and we owe it all to this team's passion, innovation and daily devotion to great candy and happy customers. The best part is… we're just getting started."
The company's multi-year growth trend was recently bolstered by the launch of a new, Enterprise Resource Planning (ERP) system from Microsoft Dynamics NAV.
Said Pratt, "Microsoft Dynamics NAV is going to usher in a new era of business controls for CandyWarehouse. With new management efficiencies and business intelligence, we're going to be moving confidently into our next growth phase and the busy holiday candy season ahead."
For the elves at CandyWarehouse.com, the Halloween season starts now, with the launch of a brand-new gateway for candy shoppers at HalloweeenCandy.com. Now it's easier than ever to plan Halloween parties around the best selection of scary, creepy, gross and downright icky Halloween candies.
"We absolutely love Halloween," said Pratt. "It's one of the best times of the year to be a candy lover, and HalloweenCandy.com gives us a great new way to showcase all the sweet, gory fun."
Shoppers at HalloweenCandy.com will find sweet sections filled with Orange Candy, Black Candy, candy Blood, Guts & Brains and more. It's fast and easy to scan for bagged, bulk Halloween candy by style or color and the new site shows off everything from irresistible Halloween candy classics, like candy corn, to CandyWarehouse.com exclusives, like creepy Licorice Skulls, chewy Gummy Severed Fingers and hypnotic Black & White Whirly Pops.
As if all that wasn't enough, the elves at CandyWarehouse have also been working in film production. In "Tales From Candy Warehouse: The Urine Test," the first episode of a wacky web series from CandyWarehouse, James gets more than he bargained for on his first day working with the CandyWarehouse crew. Tune in to watch the story unfold: http://www.candywarehouse.com/tales-from-candy-warehouse.html
About CandyWarehouse.com, Inc.
Since 1998, CandyWarehouse.com has been at the forefront of the online candy store business model, providing popular and hard-to-find as well as nostalgic and the latest-trend candy delivered fresh and fast to customers both domestically and internationally. The company sells to businesses and individuals and carries more than 5,000 varieties of candy and candy-related products.
# # #