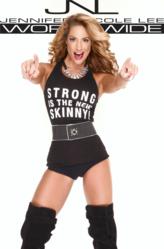 "JNL's business is booming with her JNL Clothing Line, top sales earner for fun, fresh, new active wear and lifestyle items. Jennifer Nicole Lee expanded her global brand by tapping into the billion dollar a year clothing industry with her JNL Clothing"
Miami, Fl (PRWEB) September 21, 2011
Jennifer Nicole Lee is one of the world's most famous super fitness models, enjoying a career fueled by her enthusiasm for living a fit lifestyle. This top cover girl model, fitness icon and best selling author expands her genius into apparel, with her JNL Clothing line, a fun hip eclectic and electric urban street wear that's perfect for the gym, and beyond. With a super successful launch party and trunk show celebrating her love for both fitness and passion, held at her exclusive Fitness Model Factory Headquarters in Miami, its now been solidified that this is the one brand that must be watched and worn. Jennifer Nicole Lee states: "I have a sickness for fitness & a passion for fashion! I've blended both to give you my JNL Clothing Line!"
JNL's weight loss success story has inspired millions worldwide to take positive action in their own lives. She is a highly sought after wellness expert & best selling author, who is in high demand, as her remarkable charisma and ability to touch and connect with many is nothing short of a miracle.
Now, she expands her passion into fashion, combined with her sickness for fitness, to give the world her JNL Clothing line.
JNL's memorable, catchy, and unforgettable mantras & sayings are captured on her JNL Clothing line, infusing clothing with an energy that transforms your mindset from off to on.
Some of her most highest selling items include her trademarked phrases such as "STRONG IS THE NEW SKINNY", "got muscle?", "GLUTES THAT SALUTE!", "DALE!" and "KISS MY ABS".
JNL's Clothing line can be described as youthful, fun, fresh, hip, and joyful, as the apparel causes one to look twice and smile. When asked about her line JNL responds "my clothing line is as multi-demensional as our lifestyles. The separates are perfect for training, carpooling, shopping, lounging, going out in, dressing up, or dressing down. My designs are universal, for any age, any race, and any demographic. My line is where fashion, fitness, and functionality all reside together, allowing you to train and live in style!"
ORDER YOUR FAVORITES AT http://www.JNLClothing.com
###