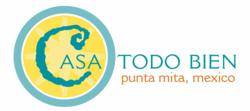 Punta Mita, Mexico (PRWEB) September 22, 2011
Casa Todo Bien, located in Punta Mita (lovingly dubbed 'Mexico's Malibu'), invites travelers to experience the unrepentant beauty, luxury and exclusivity of this private beachfront vacation villa.
"Imagine teaching your son to surf for Christmas, kayaking with your wife on New Year's Day or simply unplugging by wading out 75 feet at low tide in knee-high warm water with a cocktail," says Bob Gino, owner of Dream Homes & Destinations by Bob Gino and owner of Casa Todo Bien. "'Home is good' is what Casa Todo Bien loosely translates into – and that's exactly what staying here is all about."
Casa Todo Bien lives within Ranchos Estates, the most exclusive estate development in the world-renowned resort community of Punta Mita and is located on the north side of the Bay of Banderas, just 40 minutes from Puerta Vallarta. Adds Gino, "Fall through late spring is the best season by far in Punta Mita, so for travelers looking for an unforgettable family vacation villa, a health and fitness haven, motivating corporate retreat locale or a killer place to stay for the sportfishing season, Casa Todo Bien is definitely a dream destination."
AMENITIES:
Indoor-outdoor living is the heart of Casa Todo Bien as the spacious living areas blend seamlessly with the outdoors, separated only by walls of glass, which open to greet guests to the outside lounging and dining areas. The estate can accommodate up to 18 pampered guests with the luxuries of (to name a few):

Three spacious master suites, each with king-size bed and sweeping ocean views
6.5 bathrooms
An additional guest suite with two queen beds
A detached casita with private sleeping quarters
Living area, with four bunk beds, two futons and a kitchenette
Private chef and wait staff
Top-notch air conditioning throughout
Private pool
Media room with pool table
Flat-screen, cable/satellite/Apple TVs and wireless high-speed internet
DVD library
CD player, music library and iPod docks
On-site massages, yoga and fitness classes
Lanai, gazebo and balconies
Garage plus covered parking
ON-SITE/NEARBY ACTIVITIES:
Just steps to the sand, endless activities abound including:

Swimming
Diving/snorkeling
Surfing/windsurfing/stand-up paddling/boogie boarding
Golf
Tennis
Sportfishing
Kayaking, sailing, boating
Hiking
Mountain bike riding
Horseback riding
Yoga/spas
LOCAL CELEBRITIES:
Little Punta Mita monsters went gaga over TMZ.com's recently released pictures of mega-superstar Lady Gaga surfing local world-renowned surf break La Lancha. [See it here! http://www.blog.lapuntarealty.com/archives/5638 . Looking to learn to surf? Take a few lessons from 'Pipeline Master' Gerry Lopez, a local Punta Mita celebrity. How about golf? While playing a Jack Nicklaus course, you may very well see this local golf guru as well.
A PERSONAL INVITATION FROM MR. GINO/DREAM HOMES & DESTINATIONS:
Media: Come stay a few days to experience luxury living at its finest in Punta Mita.
Consumers: Stayed at Casa Todo Bien before? Know someone who would love it as much as you did? 'Like' us on facebook (http://www.facebook.com/casatodobien) and be entered in a raffle for a complimentary night at a five-star resort near your primary residence. Want to refer someone directly to Mr. Gino? If your friend books a stay at Casa Todo Bien, you will receive a complimentary weekend at a five-star resort near your primary residence.
ABOUT CASA TODO BIEN:
Whether looking for a unique family vacation villa, a motivating corporate retreat location or a home base for world-class surfing, golf, sportfishing and more, Casa Todo Bien is the ultimate destination for a dream vacation. Located on the north side of the Bay of Banderas and secluded from other developed areas of Punta Mita, Casa Todo Bien is one of the most exclusive estates in this world-renowned resort community. Guests enjoy top-of-the-line surf and turf toys and privileges to the Punta Mita Golf Resort (rated #1 in the world by Conde Nast Traveler), including the Pacifico Golf Course, featuring the world's only natural island green at Hole 3B as well as the breathtaking Bahia Golf Course, also a Jack Nicklaus-designed course. Surfers will be stoked to paddle out to the famous Palmitas surf break right in front of the house and La Lancha, just a short jaunt down the beach. At Casa Todo Bien you will be well taken care of by Giovanni (your personal concierge), Elloy (houseman), Chef Karla, Marcela (professional maid) and Bob Gino, owner of Casa Todo Bien. He will personally help you with your reservation and share all the details of his dream home and surrounding areas. Get a feel for us at http://www.facebook.com/casatodobien or to book accommodations, visit http://www.casatodobien.com or http://www.twitter.com/casatodobien. For general contact info send us a little note at casatodobien(at)gmail(dot)com or give Bob a call at +1 949-584-9070.
ABOUT DREAM HOMES & DESTINATIONS BY BOB GINO:
Dream Homes & Destinations is owned by Bob Gino, located in Dana Point, California. Mr. Gino is your personal guide to real estate sales in Orange County, California and luxury vacation home rentals in upscale locales around the world including Punta Mita, Mexico, East Cape, Lake Arrowhead, Utah and beyond. Whether you're seeking a real estate professional to help you buy or sell a home in Orange County, or looking for a unique luxury vacation destination, Bob Gino is your trusted guide. His personal mantra is to help clients find homes they can create lasting memories in and vacation properties that make the trip of a lifetime come true. Please visit http://www.dreamhomesanddestinations.com or http://www.bobgino.com.
###