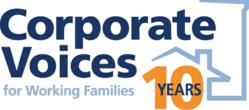 Learn and Earn partnerships are playing a significant role in providing the critical work-life and educational supports that today's working learners need to complete their postsecondary education. -Stephen M. Wing
Washington, D.C. (PRWEB) September 21, 2011
As the nation prepares to enter the fall season focused on job creation and measures needed to stimulate America's economic growth, Corporate Voices for Working Families has released three new micro-business cases documenting how partnerships between small businesses and community colleges are playing a positive role in closing the skills gap and in creating a more competitive workforce.
Corporate Voices' new micro-business cases illustrate the long-standing partnerships that Crest Cadillac, Applied Scientific Instrumentation and Millstone Power Station have cultivated with community colleges to strengthen the quality of local workforces in the automotive, high-tech and energy industries. The cases are available online at: http://corporatevoices.org/our-work/pse/micro_cases, and are part of a series published within Corporate Voices' Learn and Earn initiative.
As today's students increasingly find themselves with work-life obligations such as caregiving and the need to work while continuing their education, employer supports such as tuition assistance and scheduling flexibility help them balance the competing demands of work, school and life. Tuition reimbursement and assistance are especially helpful in overcoming financial challenges to college completion for low-income workers. Tuition burdens of higher education are serious today, as tuition rates have risen faster than median wages for working families.
"Learn and Earn partnerships with community colleges are playing a significant role throughout the country in providing the critical work-life and educational supports that today's working learners--often low-income young adults--need to complete their postsecondary education," said Stephen M. Wing, Corporate Voices' President.
Cooperative education partnerships, such as those supported by Crest Cadillac and Applied Scientific Instrumentation, are also helpful practices that provide relevant work experience for which employees can gain academic credits. These kinds of partnerships help workers complete their higher education while gaining valuable work skills.
"The fact that these partnerships are long-standing and have, in many cases, been sustained in local communities for over 20 years speaks to the value that they provide to local industry and to the local workforce," said Wing. This is especially true, as Learn and Earn partnerships have a proven track-record of increasing employee retention rates, decreasing recruitment costs and supplying employers with the skilled talent they need. They also help workers complete their postsecondary education, which makes them more competitive for 21st century jobs.
These new cases also highlight the important role that small businesses play in workforce development and in increasing the competitiveness of the U.S. economy. According to U.S. Census data, a majority of businesses in the United States are small businesses, with fewer than 100 employees. These small businesses hire more than 50 percent of workers, making them, and their Learn and Earn partnerships, a critical part of the national job creation agenda.
In fact, Learn and Earn partnerships are part of a unique solution to two critical economic challenges America faces--a stubbornly high unemployment rate, and the fact that more than half (53 percent) of business leaders say their companies face challenges recruiting employees with the skills and education their companies need. Through a robust set of work-life and education supports, innovative Learn and Earn partnerships can and do play an important part in enhancing the quality of the workforce, closing the skills gap and in putting workers on meaningful career and educational pathways. They will also help ensure that America leads the world with the highest proportion of college graduates by 2020, a goal President Obama set so that American businesses can be competitive in the global economy.
Corporate Voices' Learn and Earn initiative is made possible with the generous support of the Bill & Melinda Gates Foundation and its Postsecondary Success Strategy.
About Corporate Voices for Working Families
Corporate Voices for Working Families is the leading national business membership organization shaping conversations and collaborations on public and corporate policy issues involving working families. A nonprofit, nonpartisan organization, we create and advance innovative policy solutions that reflect a commonality of interests among the private sector both global and domestic, government and other stakeholders.
We are a unique voice, and we provide leading and best-practice employers a forum to improve the lives of working families, while strengthening our nation's economy and enhancing the vitality of our communities. Publications, research studies and toolkits on a host of workforce readiness, workplace flexibility, family economic stability and work and family balance issues are available online at http://www.corporatevoices.org.
###