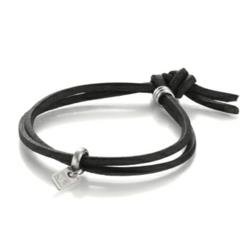 These make perfect presents for groomsmen, bridesmaids or any group as well as individuals
Las Vegas, NV (PRWEB) September 21, 2011
TeNo Stainless Steel, makers of fine and unique jewelry, watches and accessories, introduces its YuKoN Casual Collection. The YuKoN Casual Collection is the newest addition to the existing YuKoN line of charm bracelets and necklaces. In contrast to the original YuKoN products, the Casual YuKoN gives an easy-going and relaxed option to consumers at a very attractive price of $69. The original plain YuKoN bracelets in rubber or stainless steel are $140 and $185 respectively.
The more laid-back YuKoN Casual comes in only one size to fit all, making it easier to give as a gift or even share. The bracelet is made of your choice of brown or black leather and can be knotted to fit any wrist size. All of the existing YuKoN charms or elements can fit onto the YuKoN Casual bracelets. Customers can create their own unique bracelet by first choosing the base bracelet and then adding elements to their shopping cart. They can put the bracelet together however they like and put the charms in whatever order they choose.
The YuKoN collection as a whole makes a great gift. Popular charms used in gift-giving include the Zodiac, Alphabet and rainbow elements. At the appealing price of $69, consumers can buy 2 or 3 and give them as gifts or stack them up. "These make perfect presents for groomsmen, bridesmaids or any group as well as individuals," according to a TeNo representative.
The YuKoN Casual Collection as well as all TeNo products may be purchased in select retail stores across the country or online at TeNo.com. All orders placed on TeNo.com can be shipped for free via UPS Ground and the website also offers free return shipping if you are unsatisfied with your purchase.
TeNo products are crafted by prestigious German jewelry and watch manufacturer, Heinz Schwarz, GmbH, and distributed throughout the world. TeNo uses new and progressive materials in their creations. TeNo mixes rubber and ceramics with diamonds, sapphires, gold, pearls, wood and steel to design a unique concept for a modern lifestyle, expressing elements of both tradition and innovation. TeNo jewelry and watches are made from the finest stainless steel that is free of nickel. With this successful concept, Tenology is sweeping the nation.
Media Contact:
Nadine Kluger
800-360-2586
nadine(at)teno(dot)com
http://www.teno.com
###