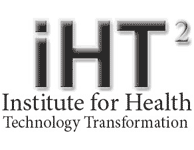 Healthcare professionals need the freedom to use fast, effective, modern communications tools while not endangering patient privacy
New York, NY (PRWEB) September 21, 2011
The Institute for Health Technology Transformation has announced it will be conducting a webinar to educate health care professionals and managers about the dangers of non-HIPAA compliant text messaging and the ways that both hospitals and physicians can protect themselves without sacrificing convenience and speed –or patient PHI. The webinar is titled "HIPAA Texting – What Are You and Your Hospital Doing?" and will take place September 27, 2011 at 1:00pm EST.
The webinar will feature an overview of the growth in mobile texting among doctors and hospitals and how some are using it to significantly improve patient care. There will be a discussion of what HIPPA regulations say about mobile messaging as well as the penalties and exposure a hospital faces if it fails to properly comply. The session will conclude with an examination of potential solutions including a case study from Cone Health which has found success using of the cutting edge communications platform, TigerText.
"Healthcare professionals need the freedom to use fast, effective, modern communications tools while not endangering patient privacy," says TigerText President and Co-Founder Brad Brooks. "We are thrilled to be included in this webinar because the more hospitals that know about these new technologies, the better patient care will be across the country."
The event will feature Adam Greene, the former Sr. Health Information Technology and Privacy Advisor for the US Department of Health and Human Services Office for Civil Rights. Mr. Greene is one of the most qualified individuals in the country on this topic as he helped HHS formulate policy for applying HIPAA to digital communications. He is currently a Partner at Davis Wright Tremaine LLP. Also taking part in the webinar will be Dr. James French, Executive Director, Cone Health Hospitalist Program; Paresh Amin, CISSP, a Security Compliance consultant and former Director of Information Security with Experian; and Mr. Brooks of TigerText.
In order to register for this complimentary webinar, please visit: https://www2.gotomeeting.com/register/466851882 or http://bit.ly/HIPPA_text
About TigerText:
TigerText allows Hospitals and Physician groups to create their own HIPAA-compliant mobile messaging network for physicians, nurses and administrators. TigerText gives Health Care Providers ultimate communication control over the messages they and their employees send, with features such as; Self Deleting Messages (both on sender and receiver handsets), Message Recall, and Forward Lock. TigerText works on all smartphone platforms and also has a desktop interface. http://TigerText.com
About the Institute for Health Technology Transformation:
The Institute for Health Technology Transformation is the leading organization committed to bringing together private and public sector leaders fostering the growth and effective use of technology across the healthcare industry. Through collaborative efforts the Institute provides programs that drive innovation, educate, and provide a critical understanding of how technology applications, solutions and devices can improve the quality, safety and efficiency of healthcare. http://www.ihealthtran.com
For more information:
Please contact Jason Evans
404-255-2532 or email PR(at)TigerText(dot)com
# # #