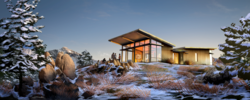 San Antonio, Texas (PRWEB) September 23, 2011
Stillwater Dwellings and the University of Texas at San Antonio College of Architecture are proud to collaborate on a presentation and discussion of the current state and future possibilities of residential prefab home design and construction.
Matthew Stannard, AIA and Bart Mitchell, both principals at Stillwater Dwellings will be discussing the challenges and successes of their past and current projects, their philosophy on prefab home design and construction, and what they believe is the current state of prefab homes and where they are headed in the coming years.
The presentation will be held Wednesday, September 28th at 5:30pm, at the UTSA Downtown Campus, Buena Vista Building, Auditorium 1.326.
ABOUT STILLWATER DWELLINGS:
SUSTAINABLE FEATURES:
All Stillwater homes include a high level of green and sustainable living features: low VOC paints, dual flush toilets, ultra-high efficiency heating and hot water systems, natural wool carpeting, prefinished/engineering eco-friendly wood flooring, Marmoleum, engineered quartz slab countertops, over-insulated walls/ceilings/floors, and high-efficiency windows with argon gas and low-e film.
EXCEPTIONAL QUALITY:
All Stillwater homes are built indoors, in climate-controlled conditions to the highest quality standards and the IRC code; the same code that governs conventional site built homes. Homes are transported as 96% complete modules, installed and finished on-site by Stillwater Dwellings.
PREDICTABLE COST:
All Stillwater clients are given fixed, up-front pricing on their home before any construction begins. Unlike traditional site-built home clients who are given estimates that commonly are exceeded during the building process, Stillwater clients contractually know what their home will cost before they begin.
COMPANY PROFILE:
Founded in 2008, Stillwater Dwellings is a Seattle-based company that designs and builds high quality, prefabricated, contemporary homes featuring quality materials, fine detailing, and eco-friendly features. Our process is the predictable and smart alternative to site-built homes.
The major benefits to our clients are:

Sustainable contemporary architecture
Upfront fixed pricing
A straightforward design modification process
Faster occupancy than the usual design/build process
Exceptional value
All homes have their signature soaring butterfly roofline, unique interior light shelf and exterior "visors", plate steel entry canopies, and efficient layouts that emphasize indoor/outdoor living and entertaining. We build in an indoor, controlled environment in Oregon, in just a matter of weeks to obtain the highest level of quality, while drastically reducing waste and keeping costs lower and more predictable than a typical site-built home.
Stillwater Dwellings portfolio also includes finished prefab homes in Bend and Portland, Oregon, Santa Barbara, CA and Southern Utah, as well as buildings in production and planning stages in Roslyn, WA; Vashon Island, WA; Sonoma, CA; and two in Los Angeles, CA. Stillwater Dwellings homes are available throughout the western region of the US, as well as Alaska, Hawaii, and Canada.
PRESS KIT & ADDITIONAL/HI-RES IMAGES:
For a complete press kit, hi-resolution images of the interiors, and company overview and bios, please visit: http://www.stillwaterdwellings.com/press.php
###