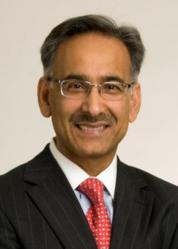 "At Rasmussen, we firmly believe that a contemporary education goes beyond coursework and grades, and graduating with a diploma. It's also about character growth and enabling our students to develop a well-rounded global perspective."
Blaine, MN (PRWEB) September 22, 2011
Rasmussen College today announced it will host a special presentation on Strategic Leadership in the 21st Century at 5 p.m. on Thursday, Oct. 6 at its Blaine, MN college campus, located at 3629 95th Avenue NE. The event, which is free and open to the public, will feature guest speaker Dr. Mehmood Khan, M.D., CEO and Chief Scientific Officer of PepsiCo's Global Nutrition Group.
During the event, Khan will highlight five key elements of successful leadership in the 21st century, including the importance of providing a clear and motivating vision, growing core competencies, developing human capital, sustaining corporate culture and encouraging ethical practices. Rasmussen's college degree seeking students as well as community members.
"At Rasmussen, we firmly believe that a contemporary education goes beyond coursework and grades, and graduating with a diploma. It's also about character growth and enabling our students to develop a well-rounded global perspective," Patty Sagert, the Blaine Campus Director. "Today's business environment demands leaders who are grounded in their principals and ethics, but still unafraid to explore new opportunities, take some risks and expand their horizons. We are thrilled to welcome Dr. Khan back to Minnesota to share his global leadership experience and international insights with our students, faculty and the community."
Khan spent six years with the Department of Food, Sciences and Nutrition at the University of Minnesota, where he also served as division chief of Endocrinology, Metabolism and Nutrition at one of the main teaching hospitals of the University's Medical School.
As CEO of PepsiCo's Global Nutrition Group, Khan has worked diligently to establish the company as the leading provider of Good-for-You (GFY) foods and beverages that taste great and provide wholesome, affordable nutrition backed by scientific research. Managing PepsiCo's current GFY product portfolio of $10 billion, Khan is spearheading the effort to triple portfolio revenues by 2020. As the company's Chief Scientific Officer, Khan guides PepsiCo's long-term research strategy, providing global leadership and support for R&D across all PepsiCo divisions.
Prior to his work at PepsiCo, Khan served as President of Global Research and Development at Takeda Pharmaceuticals. A licensed medical doctor specializing in internal medicine and endocrinology, Khan has also served as the Director of the Mayo Clinic's Diabetes, Endocrinology and Nutrition Clinical Trial Unit and as a Consultant Physician in Endocrinology. Khan earned his medical degree from the University of Liverpool Medical School in England.
Khan's presentation will last approximately one hour and will be followed immediately by a dessert reception.The event is free and open to the public, but an RSVP is requested by calling 763-795-4720.
For more information about the event, visit http://www.rasmussen.edu/visionaryleadership.
###