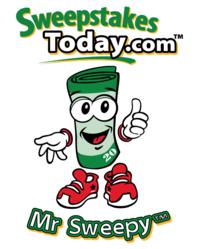 (PRWEB) September 22, 2011
Joyce Bogart of Goodyear, AZ, is no stranger to winning big prizes. She's won tens of thousands of dollars and numerous trips and other prizes on television shows like Wheel of Fortune and Family Feud. Now she's added membership in Sweepstakes Today's (http://www.sweepstakestoday.com) 10K Club to her prize belt.
"I happened across Mr Sweepy's (http://www.mrsweepy.com) site in September of 2008 and have never looked back," she said in an interview today. "(My) only regret is that I didn't find it sooner."
Bogart's win of the Rachel Ray sweepstakes she found on Sweepstakes Today for a free trip to New York plus $5,000 was the contest that put her in the 10K Winner's Club at the website, it was announced. When asked how she felt about becoming a member of that exclusive club she said, "I was thrilled! I called my husband at work and was talking so fast he couldn't understand me!" She recently also won $1,000 from Old Navy.
"I purchased a hot tub with the first prize and Christmas gifts with the second one," she responded when asked how she spent her prize money.
New York isn't the only trip Bogart has won. She and her family will also be visiting Washington DC because of a win. Her husband also tries his hand, successfully, at sweeping, winning house cleaning and even a trip to Wales.
Bogart admits to being hooked on online sweepstakes, saying "I tell myself it's an addiction, but a good one. Being able to dream of all the wonderful things that are at my fingertips."
###