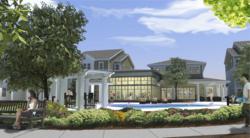 "The Cove will bring high-quality, luxury apartments to Conway that will definitely exceed any students' or parents' expectations." - Bob Gilbane
Conway, S.C. (PRWEB) September 22, 2011
Gilbane Development Company announced today that construction has started on a 396-bed student housing community at Coastal Carolina University (CCU), where robust growth in the undergraduate population has caused a shortage of student housing options. The 170,000 square-foot apartment complex, named The Cove, will open to students in August 2012.
CCU's fall 2010 total enrollment of 8,706 was the school's highest ever, and plans are in place to grow enrollment to 12,500 students by 2020.
"This is a very exciting time for Coastal Carolina and we are thrilled to be a part of its successful growth," said Bob Gilbane, Chairman and CEO of Gilbane Development Company. "The Cove will bring high-quality, luxury apartments to Conway that will definitely exceed any students' or parents' expectations."
The Cove will be one of the few student-housing complexes located within walking distance of the CCU campus. The Cove will offer amenities that rival every competing community, including a resort-style pool, a 5,000 square-foot clubhouse, volleyball court, fully-equipped fitness center, game room, outdoor plaza, tanning beds, cyber cafe and will have over 400 parking spaces for residents and visitors.
The Cove will also offer two different floor plans for students: 54 apartments will be two-bedroom, two-bath, and 72 apartments will be four-bedroom, four-bath. Students will have individual leases and rent will include all utilities. Each apartment will come standard with modern furnishings, in-unit washer and dryer, flat screen TVs and high speed Internet.
Gilbane Development recently completed 8 ½ Canal Street, a 540-bed, eight-story student-housing complex at Virginia Commonwealth University in Richmond, Va.
About Gilbane Development Company
Founded in 1970, Gilbane Development is the project development, financing, and ownership arm of Gilbane, Inc. Developing a wide range of projects for both institutional and corporate clients, Gilbane Development integrates the myriad components of the project delivery and ownership structure and guarantees the results. Completed projects incorporate every aspect of real estate including: student housing, hospital/medical, laboratories, residential communities, mixed-used developments, parking garages, corporate headquarters, operational data distribution centers, R&D manufacturing facilities, and many types of facilities delivered through public-private partnerships. To learn more, visit http://www.gilbaneco.com or call 1-800-GILBANE.
###