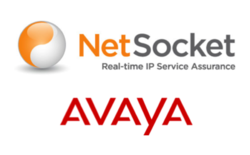 Plano, Texas (PRWEB) September 21, 2011
NetSocket, the real-time IP service assurance company, today announced it has been selected by Avaya Inc., a leading global provider of business communications applications, systems and services, for membership in the Avaya DevConnect program.
NetSocket offers a radically new approach to assuring the quality, availability and performance of real-time IP-based services, including VoIP, video, unified communications (UC) and UC as a service (UCaaS). NetSocket's unique hop-by-hop session visibility enables global banking institutions, international IT outsourcing enterprises and other companies in complex hybrid cloud environments to deliver a superior user experience for real-time IP services, with fast ROI.
The Avaya DevConnect program promotes the development, compliance-testing and co-marketing of innovative third-party products that are compatible with standards-based Avaya solutions. Member organizations have expertise in a broad range of technologies – including IP telephony, contact centers and mobility applications – helping companies extend the value of multivendor networks and transform voice into an intelligent business application that delivers true value to the bottom line.
"Membership in Avaya's developer community makes it even easier for companies using Avaya technology to confidently choose NetSocket's proven solutions for assuring the quality of their real-time communications," said John White, CEO, NetSocket. "NetSocket's patented multi-layer correlation engine provides users of Avaya-based UC services with hop-by-hop session visibility into those services, to quickly localize and resolve issues such as routing layer changes, call drops, echo, and signal-to-noise call level regardless where in the transmission process they occur."
The Avaya DevConnect program currently includes thousands of software and hardware developer companies, integrators, service providers and customers. Members have created a broad array of innovative solutions tested for Avaya compliance, including natural language speech recognition applications, wireless services, specialized computer telephony integration and reporting capabilities, and applications tailored for specific vertical industries.
Through the DevConnect program, Avaya provides a number of tools and capabilities to member companies. One example is Avaya AuraTM Application Enablement Services (AES)—a set of application programming interfaces, protocols and Web services that makes it easier for developers to create Avaya-compatible networks, devices and applications.
"Development partners like NetSocket are helping Avaya dramatically expand the options available to businesses," said Eric Rossman, vice president, developer relations and technical alliances, Avaya. "We're able to provide the tools businesses need to change the way they work and to establish a true competitive advantage in the marketplace. By tapping into the resources available from Avaya and the DevConnect community, businesses are able to use unified communications applications to make critical information readily available to both employees and customers, regardless of where they are or how they choose to communicate."
As a member of the DevConnect program, companies have access to a wide range of support from Avaya, including technical resources and training. There are three levels of membership – Registered, Gold and Platinum – each entailing progressive levels of marketing and sales involvement. Free Registered membership is available to anyone interested in designing Avaya-compatible solutions. Gold-level members and Platinum members must meet rigorous Avaya criteria for customer satisfaction, product support, business operations, marketing and sales. NetSocket is a Gold member of the Avaya DevConnect program.
Membership information and a listing of solutions developed and tested under the DevConnect program are available at http://www.avaya.com/devconnect.
About Avaya
Avaya is a global leader in enterprise communications systems. The company provides unified communications, contact centers, and related services directly and through its channel partners to leading businesses and organizations around the world. Enterprises of all sizes depend on Avaya for state-of-the-art communications that improve efficiency, collaboration, customer service and competitiveness. For more information please visit http://www.avaya.com. For more information on the Avaya DevConnect program, visit http://www.avaya.com/devconnect.
About NetSocket
NetSocket develops software that assures a superior experience for users of cloud-based and hybrid IP network services such as VoIP, video and unified communications (UC) with our patented multi-layer session to network correlation engine which drives rapid resolution of network issues. NetSocket helps customers scale VoIP, video, and UC implementations by reducing MTTI by 60% while improving the end-user experience all with a typical prove-in of less than six months. More information is available at http://www.netsocket.com. See the Top 10 reasons our customers' chose NetSocket.
###