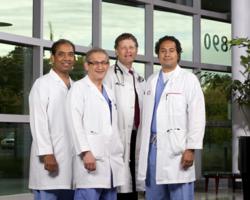 "We don't just want to meet a standard — we want to set the standard, regionally and nationally." — Cheryl Nester Wolfe, RN, Salem Health chief operating officer
Salem, Ore. (PRWEB) September 20, 2011
Five medical groups and Salem Hospital have signed a groundbreaking collaboration agreement to further enhance heart and vascular treatment in Oregon's mid-Willamette Valley.
The new Salem Health Heart & Vascular Institute is a partnership that includes Salem Hospital and more than 20 specialists from five medical groups: Salem CardioVascular Associates, Salem Clinic, Salem Heart Center, The Oregon Clinic and Willamette Vascular Specialists.
The Institute's cardiologists, cardiac surgeons, vascular surgeons and primary-care physicians will work with Salem Hospital staff to continue collecting and evaluating data, and to accelerate care delivery improvements based on their findings. Their goal is to develop a seamless treatment experience for patients — from initial evaluation at a clinic, to diagnostic testing and interventions at the hospital, to recovery at home.
Salem Hospital offers the only 24/7 heart and vascular program in the area. It has the second-largest open-heart surgery program in Oregon and is among the top participants in a national clinical trial for carotid stenting, which increases blood flow in an artery to the brain. The Institute's work will help patients by attracting more research and clinical trials, and by continuing to bring in heart specialists with the most expertise in cutting-edge treatments.
"We've already developed one of the top heart and vascular programs in the state," says Cheryl Nester Wolfe, RN, chief operating officer for Salem Health. "Collaborating to create the Heart & Vascular Institute means these specialists will have the data they need to leverage their combined expertise. We don't just want to meet a standard — we want to set the standard, regionally and nationally."
For example, Salem Hospital already exceeds a national benchmark for treating heart attacks — restoring blood flow to the heart within 90 minutes from the time a patient enters the hospital. To raise the bar, the hospital is now working with community paramedics and fire crews to begin treatment much sooner, from the patient's first assessment.
"It's not just a job; we live in this community," says Lori James-Nielsen, RN, director for Salem Hospital's cardiac service line. "My dad was treated at Salem Hospital when he first had a heart attack in his 40s. I'm now in my 40s."
James-Nielsen has seen that same passion as the Institutes' heart and vascular specialists recently began their first collaborative look at data gathered by Salem Hospital. She says the physicians instantly connected on ways they could use data to improve care for their patients.
"We can collect the data on how we are performing in comparison with the best institutions in the country," says Dr. Raghu Kamineni, interventional cardiologist and medical director for the Heart & Vascular Institute. "As you compare yourself you know whether you're doing well or whether there's some room for improvement in your style of practice."
Kamineni says Institute specialists will now have a common platform for changing care standards. Specialists who work together on a treatment plan, rather than independently of each other, are less likely to duplicate time-consuming tests. Treatment can begin more quickly. And, as treatment becomes more streamlined, the Institute will focus additional time on national priorities: reducing patients' time in the hospital and helping them avoid readmission.
Salem Health Heart & Vascular Institute partners

Salem Hospital
Salem CardioVascular Associates
Salem Clinic
Salem Heart Center
The Oregon Clinic
Willamette Vascular Specialists
The specialists of Salem Health Heart & Vascular Institute
Salem Health Heart & Vascular Institute's cardiologists, cardiac surgeons, vascular surgeons and primary-care physicians come from five medical groups. Here are their names, specialties and clinic affiliations:
Dr. James Byrkit, internal medicine physician, Salem Clinic
Dr. Kai Engstad, cardiothoracic surgeon, The Oregon Clinic
Dr. Matthew Fedor, cardiac electrophysiologist, Salem Heart Center; Arrhythmia and Electrophysiology medical director, Salem Health Heart & Vascular Institute
Dr. Mark Fleming, vascular surgeon, Salem CardioVascular Associates; Vascular Surgery medical director, Salem Health Heart & Vascular Institute
Dr. Kamran Ghalili, interventional cardiologist, Salem Heart Center
Dr. Kendall Graven, family medicine physician, Salem Clinic; Heart Failure and Inpatient Cardiology medical director, Salem Health Heart & Vascular Institute
Dr. Hrishi Iyengar, interventional cardiologist, Salem Heart Center; Non-Invasive Cardiology medical director, Salem Health Heart & Vascular Institute
Dr. Raghu Kamineni, interventional cardiologist, Salem Heart Center; medical director, Salem Health Heart & Vascular Institute
Dr. Barath Krishnamurthy, interventional cardiologist, Salem CardioVascular Associates; Interventional Cardiology medical director, Salem Health Heart & Vascular Institute
Dr. Joshua Leichman, cardiac electrophysiologist, Salem CardioVascular Associates
Dr. James Lowry, interventional cardiologist, Salem Heart Center
Dr. Everett Mozell, vascular surgeon, Salem Clinic
Dr. Juan Oyarzun, cardiothoracic surgeon, The Oregon Clinic
Dr. Mark Peterson, vascular surgeon, Willamette Vascular Specialists
Dr. Glen Roseborough, vascular surgeon, Salem CardioVascular Associates
Dr. William Stiles, interventional cardiologist, Salem CardioVascular Associates
Dr. David Tate, internal medicine physician, Salem Clinic
Dr. Kevin Thompson, interventional cardiologist, Salem CardioVascular Associates; Cardiac Rehabilitation and Community Outreach medical director, Salem Health Heart & Vascular Institute
Dr. James Wasenmiller, cardiologist, Salem CardioVascular Associates
Dr. Richard Wilson, interventional cardiologist, Salem CardioVascular Associates
Dr. Thomas Winkler, cardiothoracic surgeon, The Oregon Clinic; Cardiac Surgery medical director, Salem Health Heart & Vascular Institute
###