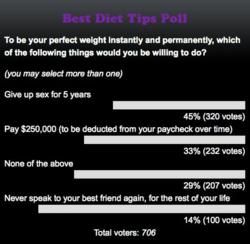 What would you give up to instantly become your ideal weight?
Newport Beach, CA (PRWEB) September 21, 2011
Weight loss information website BestDietTips.com recently polled 706 readers to find out what they would be willing to give up to instantly become their ideal weight. The poll asked, "To be your perfect weight instantly and permanently, which of the following things would you be willing to do?" Best Diet Tips readers were given four options which included, "Give up sex for 5 years," "Pay $250,000 (to be deducted from your paycheck over time)," "Never speak to your best friend again for the rest of your life," or "None of the Above."
Some might say the results were startling, but Best Diet Tips writer, Valerie Kirk says she's not the least bit surprised. "Many people would do almost anything to be their perfect weight."
Out of 706 BestDietTips.com readers, 320 (45%) would go without sex for five years; 232 (33%) would pay $250,000 (taken from their earnings over time); 100 (14%) say they'd agree to never speak to their best friend again; and 207 (29%) said they wouldn't accept any of those hypothetical options.
Charlotte, a 30 year-old divorced mother of one from Newton, Massachusetts said, "I've always dreamed of having a body like Megan Fox -- if that meant giving up sex for 5 years I'd do it. Anyway after those five years I'd have more sex than I'd had in my entire life. I'd be hot. Who wouldn't want me?"
Elise who's 38 and says she weighs "25 stubborn pounds" more than she'd like, said she'd happily abstain from sex in return for a "Pippa Middleton" figure." She adds, "I want to be sexy in my 40's." She adds with a sigh, "It seems I've been on a diet my whole life."
Kim of Roseville, CA said she would never give up sex, but would have no problem giving up $250,000 of her paycheck over time. She added, "There's no price tag on having the perfect body. I've been overweight since I was a kid, so honestly, I'd pay a million dollars if I had to. Of course, I guess it's easy to say since I don't have the money."
Gina, a twenty-something advertising executive from Hoboken, New Jersey was among the 232 people willing to give up cash for a sleeker body. She commented, "If I knew I would maintain a gorgeous physique for the rest of my life by simply having money deducted from paychecks, I would most certainly do it. I wouldn't even question it. In addition to the social positives, there's also the fact that fitter, better-looking people are paid more, so it would probably end up being a good financial investment."
Like many women her age, Fatima has tried many fad diets and spent thousands of dollars on exercise equipment, classes, diet pills and gym memberships. But she says nothing has worked--yet. "I'm 5'2 and I weight 147 pounds. if I could shed 25 pounds and have a trim waist, a flat stomach, no flab on my arms, thighs…I'd feel like a whole different person--giving up $250,000 would be worth that. The thought of losing the weight so easily makes me want to pull out my check book and start signing my pounds away," she says laughing.
Though Best Diet Tips readership is more than 75% female, the site also got some input from its male readers. James, a 260 pound, 35 year-old graphic designer living in Nashville, Tennessee joked he would sacrifice $250,000 for instant weight loss "only if it included six pack abs, and made me three inches taller." He continued, "It's hard to take that question seriously, but considering that I've got some weight related health issues – yeah, I guess I'd pay the two-fifty."
Best Diet Tips also asked if people would be willing to stop talking to their best friend forever in order to attain "instant thinness". This particular question generated the lowest positive response. Out of the 706 polled, only 100 people or 14% would agree to give up their most meaningful friendship for the perfect body.
Terri, a 47 year-old mother of three from Yorba Linda, CA was one of the minority who said she'd be willing to give up her best friend. "Your friends--even the best of them--come and go, but you're stuck with your body forever."
Wendy from Austin, Texas agrees. "I have a best friend, but she has a life outside of me and if not talking to me meant her happiness, then I'd want her to have that," said the 42 year-old working mother of two teenagers, "so I'd want her to grant me the same."
Best Diet Tips also had a group of individuals who rejected all of the options for instant weight loss. A total of 199 (14%) people answered "none of the above."
Lee, a 54 year-old salesperson said, "I couldn't see myself doing any one of those things. I mean I'm no Brad Pitt, I have a gut and could stand to lose a few pounds, but giving up sex, money and my best friend? No thanks!"
The Best Diet Tips Poll is an unscientific sampling of Best Diet Tips readers.
BestDietTips.com is a free weight loss information web site. Read in-depth reviews of Jenny Craig, Nutrisystem, South Beach Diet, I Love This Diet, Weight Watchers, Fat Loss 4 Idiots, and others. See our latest articles – "How Much Does Jenny Craig Cost – Really" and "Jenny Craig vs Nutrisystem."
###